Cauliflower, Chickpea and Kale Soup
Serves 6
I love this vegetable soup. It is super healthy and, despite the number of ingredients in the recipe, very easy to prepare. For a vegetarian version, omit the pancetta. The kamut or wheat berries make it even more nutritious but, if you prefer, you can substitute rice or small-shaped pasta, such as orzo. If you do, omit the soaking step and add the rice during the last 20 minutes or the pasta during the last 10 minutes of cooking.
Ingredients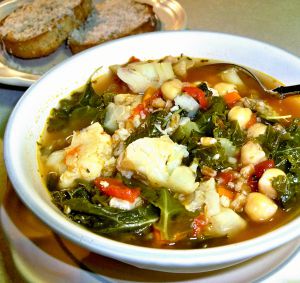 3/4 cup kamut or wheat berries (see comments above)
1 pound kale
2 medium cauliflower heads, about 4 pounds total
2 tablespoons olive oil
2 ounces pancetta or thick-sliced bacon, diced
2 medium celery ribs, finely chopped
2 medium carrots, peeled and finely chopped
1 medium onion, finely chopped
6 large garlic cloves, minced or finely chopped
2 bay leaves
2 teaspoons dried marjoram leaves
2 teaspoons dried thyme leaves
2 tablespoons dried oregano leaves
Salt and pepper to taste
2 cups low-sodium vegetable broth
2 cans (14.5-ounces each) whole tomatoes, broken apart, with juices
6 cups water
2 cans (about 15-ounces each) chickpeas, rinsed and drained (see notes below)
Freshly grated Parmesan cheese
Place the kamut berries in a small bowl and add enough boiling water to cover. Let soak for 30 to 45 minutes, or according to package directions. Drain off any excess water.
Meanwhile, wash the kale in cold water. Discard the thick stems and chop the leaves. Remove the leaves from the cauliflower. Cut into medium florets, slicing the larger stems. Wash and drain. Heat the oil in a large soup pot over medium heat. Add the pancetta and cook until most of the fat has rendered, about 4 minutes. Add the celery, carrots and onions; cook until softened, about 4 minutes. Add the garlic and cook another minute. Stir in the bay leaves, marjoram, thyme, oregano, salt and pepper. Add the broth, tomatoes, water, cauliflower, kale, drained kamut berries and chickpeas. Bring to a boil, cover, reduce heat to low, and simmer until the vegetables are tender, about 45 minutes. Taste for seasoning and adjust, if needed. Place soup in individual serving bowls and garnish each with some of the grated cheese.
Notes: Canned beans are a great product, but very high in sodium, so I only use low-sodium or no salt added varieties. If, for some reason, you cannot find them, you can easily make your own on a day when you have a little extra time Cook one pound of beans according to package directions, drain off the water, pack them in two cup portions and freeze. When a recipe calls for one can of beans, the 2-cup pack is just the right amount. I read that rinsing and draining canned beans removes about 40% of the sodium in the product.