Turkey Vegetable Soup
Serves 4 to 6
This soup is based on my mother's Hamburger Vegetable Soup, which is in the similar and related recipes. It is a healthy, delicious and, although there are a lot of ingredients, very easy one pot comfort meal. Like many soups, this is just as good the next day, so it can be made ahead and refrigerated for up to three days. Leftovers freeze very well.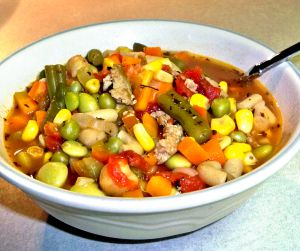 Ingredients
Olive oil, about 1 tablespoon
1 pound lean ground turkey
1 medium onion, chopped
1/2 large green bell pepper, chopped
1/2 large red bell pepper, chopped
Salt and pepper to taste
4 large cloves garlic, minced
1 tablespoon dried marjoram leaves
2 teaspoons dried thyme leaves
1/2 cup dry sherry
1 can (14.5-ounces) whole tomatoes, crushed slightly, with juices (see notes below)
2 cups chicken broth, preferably low-sodium
4 cups water
1 bay leaf
2 packages (16-ounces each) frozen mixed vegetables
8 ounces frozen whole kernel corn
8 ounces frozen shelled edamame or baby lima beans
1 can (about 15.5-ounces) chickpeas, rinsed and drained (see notes below)
Freshly grated Parmesan cheese (optional garnish)
Heat the oil in a large soup pot over medium heat. Add the ground turkey cook until lightly browned, breaking it apart as it cooks. Add the onions and peppers and cook about 5 minutes. Add salt, pepper, garlic, marjoram and thyme and cook another minute. Add the sherry and tomatoes; stir to release any browned bits in the bottom of the pan. Add the broth, water, bay leaf, vegetables and beans. Bring to a boil, then reduce heat to low, cover and cook for about one hour. Taste for seasoning. Serve, passing the cheese separately.
Notes: I prefer to use low-sodium or 'no-salt-added' tomatoes and canned beans. Sometimes, when I want a heartier soup, I add one-quarter to one-half cup small pasta, such as ditalini, elbows or shells, for the last ten minutes of cooking, and I always use whole wheat.