Turkey and Greens Soup
Serves 4 to 6
I love greens in my brothy soups. This recipe is so delicious and another way to use all the leftovers from a roasted turkey. The sherry gives it a nice flavor, but is optional. If you have turkey stock, use that in place of some or all of the water and chicken broth. Crushing the garlic and adding it at the end of cooking gives a wonderful garlicky taste which goes well with this soup. Use less if you prefer. For a richer flavor and thicker broth, you can stir in some leftover gravy. You can also add leftover turkey. When I make this after Thanksgiving, I add any stewed dried corn that is leftover. However, I make this soup other times of the year by cooking two turkey legs the same way until done.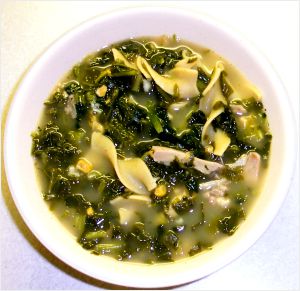 Ingredients
One leftover turkey carcass (see comments above)
1 large onion, halved
1 medium carrot
1 medium celery rib
Water and/or low-sodium chicken broth to cover well
2 bay leaves
1 cup dry sherry
1 pound frozen greens, such as turnip or collards
1/4 pound uncooked noodles
Salt and pepper to taste
4 large cloves garlic, crushed
Freshly grated Parmesan cheese (optional garnish)
Place the carcass, onion, carrot, celery, water, bay leaves, sherry, water and chicken broth in a large pot. Bring to a boil over high heat, then reduce to low, cover, and simmer for about 90 minutes. Strain the broth and discard any solids. Skim the fat from the top of the broth. Add the greens and cook until tender, about 20 minutes depending on the type. Add the noodles and crushed garlic. Cook until the noodles are tender, about 10 minutes. Serve hot, passing the cheese separately.