Herb-Roasted Turkey with Gravy
Serves 8 to 10
Whether making turkey for a holiday gathering, such as Thanksgiving, or a family meal, it is special and there are so many ways to prepare it. This recipe uses herbs and wine for great flavor and a truly festive presentation. The size of the turkey needed and the roasting times can be determined in the Guide and Tips for Roasting Turkey in the similar and related recipes. This recipe is based on using a 14-pound bird, which serves 8 to 10 people with ample leftovers...there must be turkey leftovers. It also makes extra gravy which can be frozen and used throughout the year. If desired, you can make less gravy by cutting down on the amount of broth.
Ingredients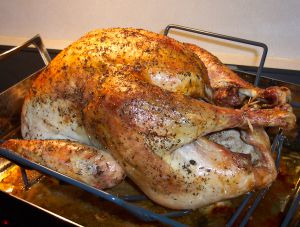 Turkey
One turkey, about 14 pounds, neck, gizzard and heart reserved
Fresh thyme sprigs
Fresh sage leaves
6 large cloves garlic, peeled
6 tablespoons butter, preferably unsalted, room temperature
2 tablespoons chopped fresh thyme, or 2 teaspoons dried
2 tablespoons chopped fresh sage, or 2 teaspoons rubbed
Salt and pepper to taste
1 cup dry red wine
Turkey broth for basting (from gravy below)
Gravy
Reserved turkey neck, gizzard and heart
Approximately 6 cups homemade or store-bought low-sodium chicken or turkey broth (see notes below)
1 whole onion, peeled
1 whole carrot, peeled
1 stalk celery, peeled
4 large cloves garlic, peeled
1 bay leaf
1 tablespoon chopped fresh thyme, or 1 teaspoon dried
1 tablespoon chopped fresh sage, or 1 teaspoon rubbed
1/2 cup dry red wine
1/3 cup all-purpose flour
Cold water to make a paste
To prepare the turkey, preheat oven to 325° F. Pat the outside of the turkey with paper towels to dry. Place the thyme sprig, sage leaves and garlic cloves in the cavity. (If fresh thyme and sage are unavailable, use dried.) Loosen the skin over the breast by inserting fingers and gently moving back and forth until skin is loose all over. Mix together the butter, chopped thyme and sage. Using hand, spread some of the butter mixture under the skin. Spread additional butter all over the outside of the turkey. Season with salt and pepper.
Place the turkey on a rack in a shallow roasting pan. Pour the cup of wine over all. Roast, basting about every 20 minutes, using broth until there are sufficient pan juices, for about 3-1/2 hours or until a thermometer inserted in thigh registers 170° F. Tent loosely with foil if turkey gets too brown. Remove from pan; tent with foil and let rest at least 20 minutes before carving.
While the turkey is roasting, start the gravy. Simmer the neck, gizzard, heart, vegetables, garlic and herbs in broth in large pot, covered, until turkey parts are very tender, about one hour. Strain the broth. While the turkey is resting, place roasting pan on burner over medium-high heat. Add the 1/2 cup wine to pan and deglaze, getting up all the browned bits. Add the remaining broth. Bring to a simmer. Mix together the flour and water into a paste. Gradually add to the broth, stirring or whisking to prevent lumping and stopping occasionally to allow it to thicken. Continue until desired thickness, but not too thick. Carve the turkey and serve, passing gravy separately.
Notes: I prefer to make my own chicken broth. This can be done several days before use and refrigerated or several months ahead and frozen. Brown chicken parts or whole chicken in large pot. Add enough water and/or chicken broth to cover. Add 1 medium onion, 1 medium carrot, 1 stalk celery, 4 large cloves garlic, 1 bay leaf, salt and pepper. Bring to a boil, reduce heat to medium-low, cover and simmer until chicken is very tender, about 1 hour, depending on size. Remove the chicken and vegetables from the broth and strain. Cool; skim fat off top. Use for gravy, adding water or additional broth if needed. Alternately, make your own turkey stock, my personal favorite, as in the similar and related recipes links. If you use leftover homemade stock that was previously seasoned, you can omit the vegetables, garlic and bay leaf when cooking the turkey parts.