Homemade Turkey Stock (For Soup, Gravy or Sauce)
Makes about 4 cups
I have been making good turkey gravy for years, using a broth from the neck and giblets, combined with various chicken parts and root vegetables. However, I was constantly trying to get a more intense turkey flavor. So, I decided to make a stock from browned turkey necks and vegetables. That turned out to be my best gravy ever. It is so easy and very economical, since necks are very inexpensive. The reason there is so much flavor is because the necks are browned first, and they are mostly bone, producing a flavorful and gelatinous stock. I always make more stock than I need for one meal and freeze the remainder for future soups or gravy. If you only want enough stock to make gravy for one turkey meal, you can just use the neck from that bird and adjust the amount of vegetables and water accordingly.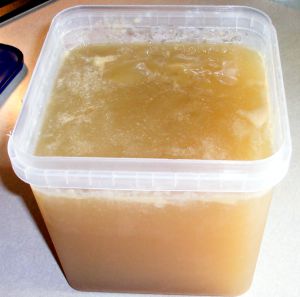 Ingredients
3 pounds turkey necks
2 tablespoons olive oil
Salt and pepper to taste
1 large onion, coarsely chopped
2 medium carrots, coarsely chopped
1 large celery rib, coarsely chopped
4 large cloves garlic, smashed and peeled (optional)
1 bay leaf
3/4 cup vermouth or dry white wine (optional)
2 cups low-sodium chicken broth
6 cups water
Chop neck bones into 2 to 3-inch pieces with a heavy knife or cleaver. (See notes below.) Heat a wide stock pot over medium-high heat. Add the oil. Add the neck bones in one layer. Season with salt and pepper. Cook until browned, about 5 minutes. Turn with tongs and brown another 5 minutes. Move to one side.
Add the onions, carrots, celery and garlic. Brown, tossing occasionally, about 5 minutes. Add the wine and stir well, scraping up all of the browned bits in the pan. Add the broth, water and bay leaf. Bring to a boil; cover and reduce to low for a slow simmer. Simmer for about 1-1/2 hours. Remove the lid and simmer for another 30 minutes, adjusting heat as needed. Remove the large pieces of meat and vegetables; strain the broth through a fine sieve lined with cheesecloth or coffee filters. Chill for several hours. Remove the congealed fat from the top. Use in gravy, soup or sauces.
Notes: Chopping the bones into smaller pieces gives more browning surface and exudes more gelatin from the bones, adding extra flavor and a gelatinous stock with lots of body, as seen in the photo to the right. You can ask your butcher to do this. However, if chopping is not a possibility, keep them whole. You will still have a flavorful stock.