Chicken Noodle Soup
Serves 4 to 6
There is nothing quite like homemade chicken soup. I make it often during fall and winter, and sometimes during the summer. This is my mother's recipe, which was passed down from my Pennsylvania Dutch grandmother. My grandmother added fresh greens when they were in season, otherwise she omitted them. Sometimes, my mother used frozen greens. Like any soup that uses a homemade broth, it takes a little longer to prepare, but is well worth the effort. The broth can be cooked when you have time and refrigerated, as well as the cooked chicken in a separate package, for up to three days, or frozen until needed. For a similar recipe with an Italian twist, see the Chicken and Escarole Soup in the similar and related recipes.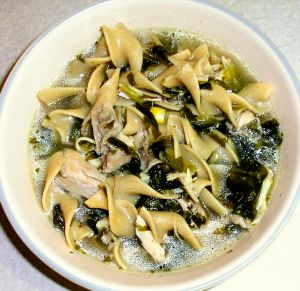 Ingredients
Broth
1 small chicken, about 3-1/2 pounds
1 large onion, peeled
1 large carrot
2 celery ribs
1 bay leaf
6 cups water, more if needed
Salt and pepper to taste
Soup
Broth from cooked chicken
8 ounces frozen greens, such as turnip or collards
4 ounces uncooked wide noodles
1 cup frozen corn kernels
2 cups reserved shredded chicken
For the broth, place the chicken, onion, carrot, celery and bay leaf in a large soup pot. Add the water and more as needed to nearly cover the chicken. Season lightly with salt and pepper. Bring to a boil over high heat, then reduce to low, cover, and simmer until chicken is tender and cooked through, about 1 hour. Remove chicken from pot; cool until easy to handle. Pull meat off bones; discard skin and bones. Reserve about 2 cups of shredded chicken for soup, and refrigerate or freeze the remainder for other recipes. Remove the vegetables from the broth; skim off the fat. Taste broth for seasoning.
For the soup, bring the broth to a boil. Add the greens; reduce heat to medium-low, cover, and simmer until tender, about 20 minutes depending on the type of greens used. Stir in the noodles and corn. Bring back to a boil, then cover, reduce heat again, and cook until noodles are tender, about 10 minutes. Add the reserved chicken and heat about 5 minutes. Serve immediately, or keep hot over very low heat.
Notes: For a heartier soup, add more chicken, greens and/or noodles. If the soup appears too thick, use less noodles or add a little more water, being careful not to add so much as to dilute the flavor. Taste again for seasonings. Since the meat of one-half chicken is sufficient for this recipe and many others, I often buy whole chickens, cut them in half and freeze until needed. Cut-up chicken parts can also be used and require less cooking time. I use whole wheat noodles in this soup and they are very good.