Bean and Kale Soup
Serves 4 to 6
As much as I love greens, I had never tried kale before I made this soup recipe. Oh my goodness, it is so good. It has that delicious dark green flavor, and is sturdier than most dark greens. The combination of the beans, pancetta, Parmesan and seasonings is absolutely delicious. However, the pancetta can be omitted for a vegetarian main dish without compromising flavor. This soup is easy, despite the number of ingredients, healthy, and has become one of my family's favorites.
Ingredients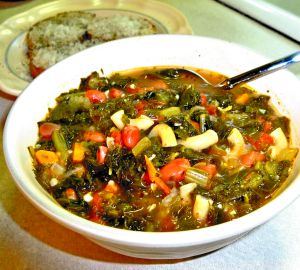 2 tablespoons olive oil
2 ounces pancetta, chopped (omit for vegetarian version)
1-1/2 cups chopped onions
1 cup chopped carrots
1 cup chopped celery
6 large cloves garlic, peeled and minced
1 tablespoon tomato paste
1 can (14.5 ounces) whole tomatoes, crushed with hands, with juices
2 cups low-sodium vegetable broth
3 cups water, more if needed
1 can (15 to 16 ounces) red kidney beans, rinsed and drained
1 can (15 to 16 ounces) pink beans, rinsed and drained
2 bay leaves
2 teaspoons dried thyme leaves
2 teaspoons dried marjoram leaves
Salt and pepper to taste
One piece Parmesan rind (optional, see notes below)
1 pound kale, cleaned, tough stems removed, and coarsely chopped or torn
1/4 cup small dry pasta, such as ditalini or little shells
Freshly grated Parmesan cheese for serving
Heat a large soup pot over medium heat. Add the oil, then the pancetta. Cook until lightly browned. Add the onions, carrots and celery; cook until softened, about 5 minutes. Stir in the garlic and tomato paste and cook another minute. Add the tomatoes, broth and water, stirring to scrape up any brown bits in the bottom of the pan. Bring to a boil, then stir in the beans, bay leaves, thyme, marjoram, salt, pepper and Parmesan rind. Add the kale, stirring as needed until it all fits in the pot. Reduce heat to medium-low, cover, and simmer, stirring occasionally, until the kale is tender, about 45 minutes. (After the kale has cooked down, add more water if needed, but not too much or you will dilute the flavors.) Bring the soup back to a boil and stir in the pasta. Reduce the heat, cover, and simmer until the pasta is tender, about 10 or 15 minutes. The soup can be served immediately or kept warm over very low heat, passing the grated cheese separately.
Notes: Kale stems are quite tough. To remove them, just pull the leafy greens off from both sides. Pancetta is an Italian bacon that is cured but not smoked. It has a unique flavor but, if you cannot find it, regular bacon can be used. I always freeze the rinds from the wedges of Parmesan cheese that I use for grating. They give great flavor in a soup like this. If you do not have any, you can just stir in a little grated cheese when the soup is done. I always use either low-sodium or, when I can find them, no salt added beans. As with many soups, this is just as good leftover. Although it comes together rather quickly, it can be made, up to the point of adding the pasta, on a day when you have extra time. Store it in the refrigerator, then reheat and finish after work for a quick weekday dinner. To halve the recipe, omit the pink beans.