White Bean Soup with Pancetta
Serves 4 to 6
I love bean soups. This bean soup is based on my mother's White Bean and Ham Soup, which is in the similar and related recipes. I decided to make the soup a little healthier by eliminating the ham and substituting pancetta, an unsmoked Italian bacon that is available cured or uncured. A little adds a lot of flavor. If you cannot find pancetta, slab or thick-sliced smoked bacon can be used. However, the meat can be omitted entirely for an equally delicious vegetarian version. I made a few other changes to my mother's recipe to make preparation a little quicker and easier. This new version received Mom's highest approval.
Ingredients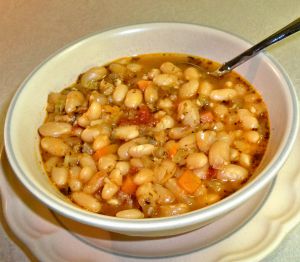 1 pound dried great northern beans
1 tablespoon olive oil
4 ounces pancetta, diced (see comments above)
2 medium onions, chopped
3 large carrots, chopped
2 celery ribs, chopped
4 large garlic cloves, minced
2 cups chicken or vegetable broth, preferably low-sodium
4 cups water
1 can (14.5 ounces) whole tomatoes, crushed with fingers, with juices
1-1/2 teaspoons dried thyme
1 teaspoon marjoram
1 teaspoon rubbed sage
1/2 teaspoon dried savory
1 bay leaf
Pepper to taste
Freshly grated Parmesan cheese (optional)
Rinse and drain beans to remove any grit. Place in a Dutch oven or soup pot. Add water to cover by two inches. Bring to a boil and boil for 2 minutes. Remove from heat; cover and let stand for 1 hour. Drain completely.
Add the oil to the pot. Heat over medium heat. Add the pancetta and cook until some of the fat has rendered, about 2 minutes. Add the onions, carrots and celery. Cook until slightly softened, about 4 minutes. Add the garlic and cook another minute. Add the broth, water, tomatoes, thyme, marjoram, sage, savory, bay leaf and pepper. Return the beans to the pot. Bring to a boil over high heat. Cover, reduce heat to low, and simmer until the beans are very tender and the soup has thickened slightly, about 2-1/2 hours. Taste for additional seasonings. Serve, passing grated cheese separately.
Notes: I believe this soup has enough salt with the pancetta and canned broth. Taste the broth after it has cooked a while and add salt only if needed. For a thicker soup, cook it longer or purée some of the beans with an immersion or regular blender. I must admit that, when we eat soup, we eat a lot. This soup will easily serve six, possibly eight if you add a side salad or sandwich. The recipe can easily be halved.