Mom's White Bean and Ham Soup
Serves 6
This is the dried white bean and ham soup my mother and grandmother used to make. It is a little time-consuming, but well worth the effort because it is perfectly delicious. You really should try it. However, if you prefer an equally good soup based on this recipe that is a little less labor intensive, try my White Bean Soup with Pancetta in the similar and related recipes. This recipe can easily be halved, using half of the tomatoes and freezing the remainder for another recipe.
Ingredients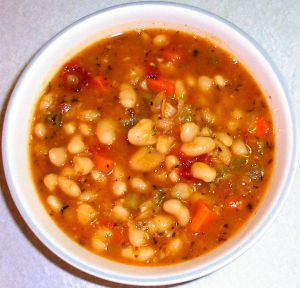 1 pound dried Great Northern beans
6 cups low-sodium chicken broth
1 can (14.5 ounces) whole tomatoes, crushed with fingers, with juices
1 large, meaty ham bone (can use 1 large or 2 medium ham hocks)
1-1/2 teaspoons dried thyme
1 teaspoon rubbed sage
1/2 teaspoon dried savory
1 bay leaf
Pepper to taste (taste before adding salt)
2 medium onions, chopped (about 1-1/2 cups)
3 large carrots, chopped (about 1-3/4 cups)
3 celery ribs, chopped (about 1 cup)
1 tablespoon vegetable oil
Place beans in Dutch oven or stock pot. Add water to cover by 2-inches. Bring to a boil and cook for 2 minutes. Remove from heat; cover and let stand for 1 hour. Drain completely.
Return beans to pot. Add broth, ham bone or hocks, and seasonings; bring to a boil. Reduce heat, cover and simmer for 2 hours. Meanwhile, sauté onions, carrots and celery in oil. Add to soup after the 2 hours. Remove ham bone and bay leaf. Cook for 1 hour more at a simmer. Skim fat and discard. Remove the ham from the bone; cut into chunks and return to the soup. Taste before serving and add any seasonings if needed.