Hamburger Vegetable Soup
Serves 4
This is a recipe my mother made when she wanted a quick vegetable soup. It is very good and easy, even though there are a lot of ingredients. Make it the day you need it or up to three days ahead, perhaps on a weekend, and refrigerate to serve on a busy weeknight. For an equally delicious soup based on this recipe, see my Turkey Vegetable Soup in the similar and related recipes.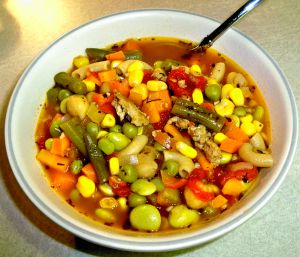 Ingredients
Olive oil, about 1 tablespoon
1 pound ground beef (preferably chuck or sirloin)
1 medium onion, diced
Salt and pepper to taste
4 large cloves garlic, minced (see notes below)
1 tablespoon dried oregano
1 can (14.5-ounces) whole tomatoes, broken up, with juice
2 cups low-sodium beef broth
4 cups water
Dehydrated beefy onion soup mix, optional (see notes below)
2 packages (16-ounces each) frozen mixed vegetables
1 can (8-ounces) whole kernel corn
1 can (8-ounces) lima beans
1 can (about 15-ounces) chickpeas
Freshly grated Parmesan cheese (optional)
Heat just enough oil to prevent sticking in large soup pot over medium-high heat. Add ground beef and brown, breaking apart as cooking. Add onions and cook until softened, about 5 minutes. Season with salt, pepper, garlic and oregano and cook another minute. Add the tomatoes, broth and water; bring to a boil and add the onion mix. Stir well to combine. Add the remaining vegetables; bring back to a boil. Reduce heat to low, cover and cook about 45 minutes. Taste for additional seasoning. Pass cheese separately.
Notes: If you use canned beef broth, you probably will not need the onion soup mix. Mom sometimes used chicken broth then tasted the soup to determine if it needed the extra flavor. She either added a whole envelope or a partial amount and, occasionally, none. When she was very busy, and before fresh garlic was widely available, she used garlic powder. Go easy on the added salt since canned broth and onion soup mix, even the lower-sodium varieties, are salty. This soup freezes very well.