Grilled Rib Eye Steaks with Garlic and Rosemary
Serves 4 (see notes below)
I usually add a marinade to tougher cuts of steak to help tenderize them. However, something like a rib eye is tender by itself and can be grilled as is. The garlic and rosemary in this recipe add a subtle flavor. The oil distributes that flavor, as well as helping to sear the outside of the steaks and prevent sticking. If you do not have an outdoor grill, make this indoors on a grill pan, in a skillet, or under the broiler. No matter how it is prepared, it is a quick, easy and delicious main dish. The recipe can be made in any amount needed.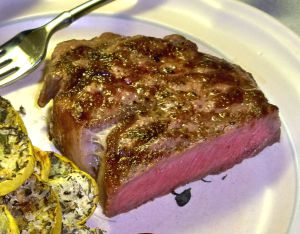 Ingredients
4 rib eye steaks, at least 1-inch thick
4 garlic cloves, minced
1 tablespoon fresh rosemary leaves
3 tablespoons olive oil
Salt and pepper to taste
Trim the steaks of excess fat. Place on a large platter in one layer. Mix together the garlic, rosemary and oil. Pour over the steaks, turning to coat both sides. (This can be done about 30 minutes before grilling or several hours ahead, covered and refrigerated. Remove the steaks from the refrigerator about 30 minutes before cooking to come to room temperature.)
Heat grill to high heat. Remove the garlic and rosemary from the steaks and pat dry. Season with salt and pepper. Grill over direct heat until desired doneness, about 5 minutes per side for medium-rare, depending on thickness. Remove from grill. Let rest about 5 minutes before serving.
Notes: Since rib eye steaks are usually rather large, especially when they are one-inch thick, this recipe can certainly serve up to four more people. Make four steaks, let them rest, then slice before arranging on individual plates or one large serving platter.