Horseradish-Crusted Beef Tenderloin Roast
Serves 6 to 8
I love beef tenderloin and this recipe, with a simple but delicious horseradish crust, is no exception. It is a quick, easy and healthy main dish that makes an elegant presentation for a special dinner or a party buffet. If desired, serve with creamy horseradish sauce, such as the recipe in the similar and related recipes, which perfectly complements the beef.
Ingredients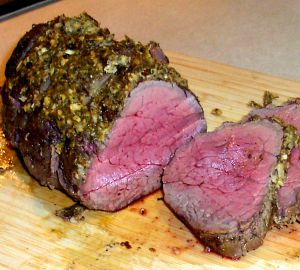 2 pounds center-cut beef tenderloin roast
Salt and pepper to taste
1 tablespoon olive oil
2 teaspoons Dijon mustard
2 tablespoons grated fresh horseradish (see notes below)
1 medium clove garlic, peeled and minced
1 teaspoon dried thyme leaves
Preheat oven to 400° F. Remove any silver skin from the roast, which is the thin whitish membrane on the outside. If necessary, tie the roast with butchers twine in several places to make it an even thickness from end to end. Season with salt and pepper. Heat a medium ovenproof skillet over medium-high heat. Add the oil and swirl to coat the pan. Add the beef and sear until browned, about 3 minutes on all sides.
Remove the roast from the pan. Mix together the mustard, horseradish, garlic and thyme. Rub the mixture all over the meat. Return it to the pan and place in the oven. Roast until it reaches an internal temperature of 130° for medium-rare, about 25 minutes. Place the roast on a cutting surface and tent loosely with foil. Let rest for 10 minutes. Slice the beef into desired portions, not more than 1/2-inch thick. Serve immediately with or without a dollop of horseradish sauce on the side.
Notes: I prefer to use fresh horseradish for most of my cooking. However, you can certainly substitute prepared horseradish in this recipe. This roast, without the sauce, is an excellent choice for a buffet because it is equally good at room temperature and can be sliced as thin as you like. As part of a buffet, it would serve more people. It is also delicious served with mini rolls and appropriate condiments to make small sandwiches in a more casual setting.