Light and Creamy Horseradish Sauce
Makes 1-1/2 cups
This quick and easy sauce recipe, which uses low fat ingredients and fresh horseradish, can be served as a delicious condiment for beef, as a dip for vegetables, crackers or chips, or as a sandwich spread. The yogurt adds a little tang that pares well with fresh horseradish.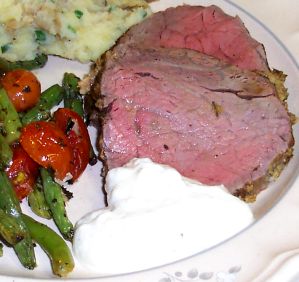 (Pictured with beef tenderloin roast.)
Horseradish root can be purchased at most grocery stores throughout the year. Just like ginger root, what you do not use can be stored in the freezer for about six months and grated as needed. If you like just a little heat, add less than suggested in this recipe and taste after it has set, as the flavor and heat will intensify, then add more if desired. Prepared horseradish can be substituted, but I prefer the fresh. This recipe can be made in any amount needed.
Ingredients
3/4 cup reduced fat sour cream
1/2 cup nonfat Greek yogurt
1/4 cup freshly grated horseradish
1 teaspoon Dijon mustard
Salt and pepper to taste
Mix all ingredients. Let stand at least 30 minutes before using, or refrigerate for up to 3 days and bring back to room temperature before using.