Oven-Braised Beef Roast and Vegetables
Serves 4 to 6
I love a good old-fashioned beef pot roast made on top of the stove, like in the recipe in the similar and related recipes links. But this is equally delicious and easier, because you do not need to watch it as closely. The cut of beef best suited for braising is the chuck. However, have you noticed how thinly cut the pre-wrapped roasts in the grocery store are these days, sometimes no more than one inch thick? To get the wonderful flavor that results from slow cooking, ask your butcher for a chuck roast that is 3 to 4 inches thick. You will be glad you did.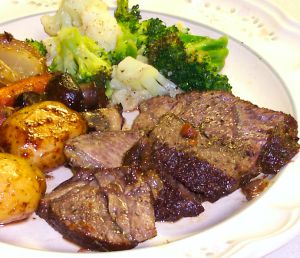 Ingredients
2 pounds chuck roast, 3 to 4-inches thick
Salt and pepper to taste
2 to 3 tablespoons all-purpose flour
2 tablespoons olive or vegetable oil
2 medium onions, coarsely chopped
3 large carrots, peeled and cut into about 3-inch pieces
4 small potatoes, scrubbed and quartered
8 ounces cremini or white button mushrooms, halved if large
4 large cloves garlic, smashed lightly and peeled
1 teaspoon dried thyme leaves
1 teaspoon dried marjoram leaves
1 teaspoon dried rosemary leaves
1-1/2 cups dry red wine
1 cup water
Preheat oven to 350° F. Heat a large braising pan, sauté pan, or Dutch oven over medium-high heat. Season the beef on all sides with salt and pepper. Add the flour and rub all over until it adheres to the meat. Add the oil to the pan. Add the meat and brown, about 3 minutes per side. Remove the meat, and add the vegetables and herbs to the pan. Season with a little more salt and pepper. Sauté until slightly golden, about 3 minutes. Add the wine and stir, scraping up all the browned bits in the bottom. Return the meat to the pan and push the vegetables to the sides of the meat. Cover tightly, and place in the oven. Braise until the meat is fork-tender, about 1 hour and 45 minutes, turning once after one hour.
Place the roast on a platter. Remove the vegetables with a slotted spoon and place on the platter. Cover with foil to keep warm. Return the pan to the stove over high heat. Add the water, bring to a boil, and cook until reduced, stirring to scrape up any browned bits in the bottom of the pan, about 5 minutes. Cut the roast against the grain into thick slices. Serve with the vegetables and spoon some of the pan juices over all.
Notes: This size roast can serve up to 8 people if you add more of the vegetables.