Old-Fashioned Beef Pot Roast with Vegetables and Gravy
Serves 6
Here it is, the inevitable beef pot roast recipe. Everybody has one and, obviously, it is the best. It has been handed down from each generation, sometimes being altered slightly with each new cook. Well, this is my recipe. I got it from my mother, who got it from my grandmother, who made it just like her Pennsylvania Dutch mother.....and so on. I have made some alterations in the variations shown below. However, if I want the real thing, the old-fashioned version, I make it exactly as it was handed down to me (with the exception of substituting olive oil for the shortening or lard used in the old days) because, after all, it is the best. Making a roast on top of the stove requires a more watchful eye than braising in the oven, as in the recipe in the similar and related recipes links which is also delicious, but the flavor and texture cannot be beat.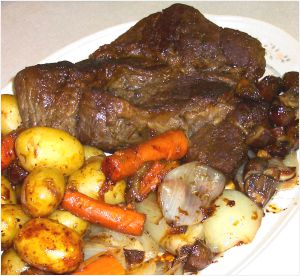 Ingredients
1 boneless beef chuck roast, about 3 pounds
2 tablespoons olive oil
Salt and pepper to taste
6 small potatoes (optional-see variations)
6 small onions
6 medium carrots
1-1/2 cups water
2 tablespoons all-purpose flour and enough cool water to make a paste
Salt and pepper the roast. Heat the olive oil in a large Dutch oven over high heat. Add meat and brown on both sides. Add just enough water to cover the bottom of the pot, cover with lid, and reduce heat to medium setting. Braise for approximately 1 hour, checking often; turn roast as needed and add just a little water when dry. (Lid may need to be slightly opened for water to evaporate occasionally. This allows the meat to continue browning without burning and adds moisture to ensure a juicy, tender roast.)
Meanwhile, prepare vegetables. Clean and, if desired, peel potatoes. Remove skins from onions, leaving the skin at the root end intact to hold onion together. Cut an "X" at the other end about 1/2-inch into onion. Peel the carrots and cut into halves. Add the vegetables to the roast after the first hour of cooking, seasoning with additional salt and pepper. Continue to braise for an additional hour or until vegetables are and meat are tender.
To make the gravy, remove vegetables and roast from pan and keep warm. Remove as much of the excess grease from the pot as you can. Turn heat to medium-high. Add 1-1/2 cups water to pot. Bring to boil, scraping any brown bits from the bottom. Reduce slightly. While still boiling, gradually add smooth flour paste to water, stirring or whisking vigorously after each addition to prevent lumps. Add enough paste to reach desired thickness, keeping in mind that it will continue to thicken as it cooks. Taste for seasoning, adding salt or pepper if needed.
To serve, slice the roast. Place the beef and vegetables on a large platter or on individual plates. Pass the gravy separately.
Variations: Omit the whole potatoes and serve with mashed potatoes. The gravy can be made with the addition of red wine; add it to the pot after removing the roast to deglaze the pan. Or braise the roast in red wine. Whole, peeled cloves of garlic and/or mushrooms can be added with the vegetables. Gravy can be thickened by any method you prefer, such as cornstarch or cream, or it can just be reduced without a thickening agent.