Braised Lamb Shanks with Orzo and Vegetables
Serves 4
I love lamb shanks and I love this recipe. Although there are a lot of ingredients and it requires a long time to cook, it really is simple and hands-on work is minimal. Once everything is chopped, seared and placed in the oven, you only need to check it occasionally. This is a delicious Italian-inspired main dish and, since the orzo cooks with the lamb, a satisfying one pot comfort meal. See the notes for adjusting the recipe to serve two. For something similar and equally delicious, see the lamb shanks with white beans in the similar and related recipes.
Ingredients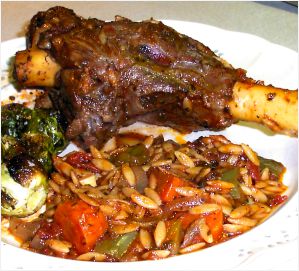 3 tablespoons olive oil
4 lamb shanks
Salt and pepper to taste
3 medium carrots, cut into 1/2-inch slices (about 1 cup)
1 medium celery stalk, cut same as carrots (about 3/4 cup)
1 large onion, coarsely chopped (about 2 cups)
1 small green bell pepper, coarsely chopped (about 1 cup)
4 large garlic cloves, finely chopped
2 tablespoons tomato paste
1-1/2 cups dry red wine
1/2 cup water (more as needed)
1 can (14.5 ounces) whole tomatoes, crushed with fingers, with juices
1 bay leaf
2 teaspoons dried thyme
1 tablespoon dried marjoram leaves
2 teaspoons dried rosemary
Juice of 1/2 lemon
1-1/2 cups orzo, white or whole wheat
2 tablespoons chopped fresh parsley
To make the lamb shanks, preheat the oven to 325° F. Heat a large skillet, sauté pan or braiser over high heat. Add the olive oil. Season the shanks with salt and pepper. Add to the pan and sear until nicely browned, about 2 minutes per side. Remove shanks and set aside.
Reduce heat to medium-high. Add the carrots, celery, onions, and green peppers. Sprinkle with a little more salt and pepper. Sauté until lightly golden, about 5 minutes. Add the garlic and tomato paste. Stir well to combine paste with vegetables. Pour in the wine and water. Deglaze pan, scraping up all of the browned bits in the bottom. Add the tomatoes, bay leaf, thyme, marjoram, rosemary, additional salt, pepper and lemon juice. Stir well. Return the shanks, and accumulated juices, to the pan. Cover with a tight lid or, if in doubt, foil and place in the oven. After 1-1/2 hours, turn the shanks over and spoon some of the sauce on top. Cover again and continue to braise until meat is very tender, about 1 hour.
Meanwhile, toast the orzo in a dry pan over medium heat until golden brown, being very careful not to burn. Heat about 1 cup of water in a tea kettle just to boiling and keep warm.
To finish the dish, increase oven temperature to 400° F. Stir the toasted orzo into the sauce in the pan with the shanks and vegetables. If it looks like you will need extra liquid, add some of the hot water. Cover again; return to oven and bake until orzo is tender, about 20 minutes. Stir in the fresh parsley and serve immediately. YUM!
Notes: The amount of sauce in the pan often depends on the type of pan used. That is why you might need a little more liquid to finish the orzo. I use whole wheat orzo, which takes a little longer to cook than white. To make this for two, you can use two shanks and three-quarter cup orzo. Everything else can remain the same. You will have a little more residual sauce which can be spooned over the lamb and pasta.