Beef Pot Roast with Tomato Sauce
Serves 6
I love a good pot roast and this is definitely one of my favorites. The recipe is based on my mother's old-fashioned beef pot roast, which is in the similar and related recipes. I make it when I am in the mood for a beef roast, but want some delicious Italian comfort food. The meat takes some time to braise, but is very easy to prepare and most of the cooking time is hands off. Serve with pasta, noodles, rice or mashed potatoes. Alternately, for a one pot meal, add some baby potatoes to the roast with the other vegetables.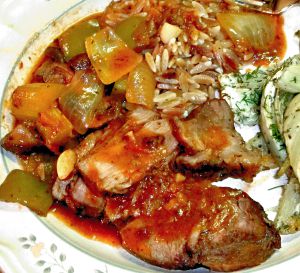 Ingredients
One chuck roast, about 2-1/2 pounds
Salt, pepper and all-purpose flour
Olive oil
2 medium onions, chopped into 1-inch pieces
1 large green pepper, chopped into 1-inch pieces
2 medium carrots, sliced into 3/4-inch pieces
6 large cloves garlic, peeled and slightly smashed
1 tablespoon tomato paste
1-1/2 cups dry red wine
1 can (14.5 ounces) whole tomatoes, broken apart, with juices
1 bay leaf
1 teaspoon dried thyme
1 tablespoon dried marjoram leaves
1 tablespoon dried parsley leaves
8 ounces button mushrooms, whole or halved
Water, if needed
Sprinkle roast with salt, pepper and a little flour. Heat enough olive oil to cover the bottom of a Dutch oven or large sauté pan over medium-high heat. Add the roast and brown well on both sides. Add the onions, peppers and carrots and sauté until slightly golden. Add the garlic and tomato paste and sauté another minute. Pour in the wine; scrape up all browned bits from bottom of pan. Add the tomatoes, bay leaf, thyme, marjoram, parsley and additional salt and pepper. Stir well to combine. Cover; reduce to medium-low and braise until meat is fork-tender, 1-1/2 to 2 hours, depending on thickness of roast, adding the mushrooms after about 30 minutes. Turn the meat and check occasionally in case it needs some water. If there appears to be too much liquid, remove lid until the broth reduces to desired thickness.
Place the meat and vegetables on a serving platter and cover with foil to keep warm. If desired, cook the sauce down to the desired thickness. Serve, scooping sauce over meat and side dish.