Pork Pot Roast with Vegetables and Gravy
Serves 6
It is hard to believe, but I realized several weeks before I made first this recipe that I had never made a pork pot roast. I have made many pork roasts in the oven, but not braised on top of the stove. I asked my mother about it, because I could not remember her making one. She remembered making pork roast this way, but a very long time ago. For whatever reason, she started making it in the oven. She also remembered that my grandmother usually made pork roast on top of the stove, as was typical of old Pennsylvania Dutch cooking. So, I decided it was time. I knew it would be an easy task and I was so anxious to taste it. I loved it instantly and have made it many times since. This is the way my grandmother made it, but I added garlic, mushrooms and red wine, and substituted oil instead of the usual shortening or lard to brown the meat.
Ingredients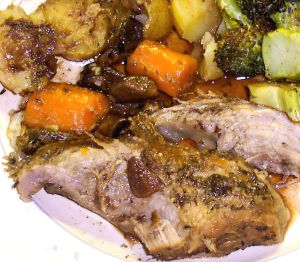 2 tablespoons olive or canola oil
4-1/2 pounds pork butt roast, or similar cut, well-trimmed of excess fat
Salt and pepper to taste
1 teaspoon dried thyme
1 teaspoon rubbed sage
Water as needed
6 small potatoes, scrubbed (peeling is not necessary)
2 medium onions, quartered
4 medium carrots, cleaned and each cut into 3-inch pieces
6 large garlic cloves, peeled
8 ounces button mushrooms, preferably cremini, halved if very large
Additional salt, pepper, thyme and sage for vegetables
1/2 cup dry red wine
1/2 cup water
2 tablespoons flour and enough water to make a paste to thicken gravy
Heat a large sauté pan or Dutch oven over medium-high heat. Rub the roast on all sides with the 1 teaspoon thyme, 1 teaspoon sage, salt and pepper. Add the oil to the pan and heat. Add the roast, fat side down and brown well on all sides. Add a little water. Reduce heat to medium, cover, and braise about 1 hour, turning occasionally. Add some water if needed or, if too much moisture accumulates for the roast to sizzle between turns, lift the lid so it can evaporate.
After the hour, add the vegetables, garlic, mushrooms and additional seasonings to taste. Continue to braise as before, adding liquid or evaporating excess, turning everything now and then, until potatoes are tender, about 1 additional hour. Remove pork and vegetables to a platter and place in a very low oven to keep warm.
To make the gravy, turn heat to medium-high. Add the wine and 1/2 cup water to pot. (If more gravy is desired, just add more water. There is plenty of flavor in the pot.) Bring to a boil, scraping any brown bits from the bottom. Reduce slightly. While still boiling, add smooth flour paste gradually, stirring or whisking vigorously after each addition to prevent lumps. Add enough paste to reach desired thickness. Taste for seasoning. Slice the roast. Serve meat and vegetables, passing the gravy separately.
Notes: Sometimes, the vegetables get done before the pork is very tender. If that happens, just transfer them to an ovenproof bowl, cover with foil, and keep warm in a 200° F oven while the pork continues to cook.