Slow-Roasted or Grilled Pork Butt
(for roast or pulled pork sandwiches)
See comments for serving amounts
Talk about good eats! This recipe for pork butt, also known as pork shoulder, is delicious and extremely versatile. Serve as a roast, as in the top photo, with or without barbecue sauce or gravy. Serve it in pulled pork sandwiches, as in the bottom photo, adorned with an East Carolina vinegar-based barbecue sauce or a tomato-based barbecue sauce, both of which are in the similar and related recipes. Alter the seasonings in the rub to almost any herb or spice you prefer. Cook it in the oven or on a covered outdoor grill. You could also use a smoker or slow-cooker. This recipe will make about fourteen sandwiches, depending on the size of the roll, or serve six to eight people as a roast. However, you can make it for two, have it plain the first night, reheated with barbecue sauce for sandwiches the next night, and freeze the remainder for some quick dinners. Despite the time it takes to prepare and cook, it is a very easy, hands-off recipe.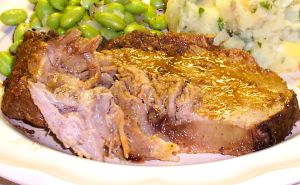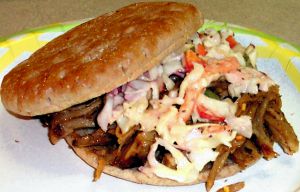 Ingredients
1 bone-in pork butt or shoulder roast, about 5 pounds
2 tablespoons sweet paprika
2 teaspoons garlic powder
2 teaspoons onion powder
1 tablespoon dark brown sugar
2 teaspoons dry mustard
1 teaspoon dry thyme leaves
Freshly ground pepper to taste
Salt to taste
Barbecue sauce (optional, see the similar and related recipes)
Trim pork of excess visible fat, but leave some for flavoring and tenderizing. Place all of the remaining ingredients, except the salt and barbecue sauce, in a small bowl to combine. Rub the mixture all over the meat, patting with your hands to help it adhere. Place in a large sealable bag set in a shallow bowl and seal. Refrigerate for at least 4 hours or overnight.
If roasting indoors, preheat oven to 300° F. If using an outdoor covered grill, heat to 300° using low-indirect method. If you have a charcoal grill, or have a smoker box for your gas grill, prepare hickory chips according to specific instructions for your grill. (If using a charcoal grill, be prepared to add fresh hot coals about every hour.) Season the roast generously with salt. Place, fat side up, in a shallow roasting pan or directly on the grill cooking rack and close the grill cover. Roast until very tender and the bone pulls out easily, about 5 to 6 hours depending on the roasting method. (If using the outdoor grill, be certain to monitor the temperature often.) Remove roast from heat and place on sheet pan of large cutting board. Cover with foil and let rest at least 15 minutes or up to one hour.
If serving as a roast, slice or, using two forks, pull the pork into large shreds. Discard the bone and excess fat. If using sauce, pour desired amount over pork and, if necessary, cover and reheat on the stovetop or in the oven. Serve as is or in hamburger rolls. Southern pulled pork sandwiches are traditionally served with a scoop of coleslaw on each sandwich, which is absolutely delicious.