Eastern North Carolina Vinegar-Based Barbecue Sauce
Make in any amount needed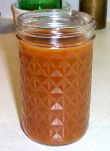 In Pennsylvania, barbecue sauce used for pork has a tomato base, as in the recipe linked below. My first experience with pork barbecue in a restaurant in North Carolina was shocking. I thought that the sauce had turned sour. Then I went to my first pig-picking and discovered the real thing. It is so good. Nothing can compare to the flavor of a tender, juicy piece of pork slow-roasted over wood coals and basted with a vinegar and spice sauce. It is so delicious. However, since pig-pickings are a rare occurrence, I wanted to try to make the sauce myself. After much research, I found a version in a Jeff Smith cookbook upon which this recipe is based. You will note the large amount of sauce the recipe yields. It can be reduced to any amount desired, as in the reduction example provided. However, you can store extra sauce in the refrigerator for weeks or in the freezer for up to one year. Alternately, if you are used to preserving, it can be canned using proper preserving methods. That also makes for nice homemade gifts. If using with pork, the meat can either be prepared in a slow-cooker or, my favorite, slow-roasted in the oven or covered grill, as in the similar and related recipes. This sauce is equally good on chicken.
Ingredients
To make 8 quarts
1-1/2 cups dark brown sugar
1-1/2 cups Worcestershire sauce
1-1/2 cups yellow prepared mustard
1 quart ketchup
1/2 cup freshly ground black pepper (or to taste)
1/2 cup crushed red pepper flakes (or to taste)
3 quarts apple cider vinegar
2 quarts water
1 quart white wine
2 teaspoons liquid smoke (optional)
1/2 cup salt (or to taste, see notes)
---
To make 1-1/3 quarts
1/4 cup dark brown sugar
1/4 cup Worcestershire sauce
1/4 cup yellow prepared mustard
2/3 cup ketchup
1 tablespoon freshly ground black pepper (or to taste)
1 tablespoon crushed red pepper flakes (or to taste)
1 pint apple cider vinegar
1-1/3 cups water
2/3 cup white wine
1/4 teaspoon liquid smoke (optional)
1 tablespoon salt (or to taste, see notes)
Place all ingredients in a very large stock pot (saucepan for smaller amount) and bring to a boil. Reduce heat, cover and simmer for about 30 minutes. Cool, then store in refrigerator until use.
Notes: The amount of black and red pepper called for in this recipe results in a fairly spicy-hot sauce. You might want to start with less and add more after tasting. Also, I use much less salt since some of the ingredients are high in sodium and I do not like salty foods. Again, start with less and add more if needed.