Coleslaw
Serves 8
I love this coleslaw recipe. It is considerably lighter and healthier than most cabbage slaws because it uses much less mayonnaise, but no one will notice the difference. Sometimes, I substitute nonfat plain yogurt for half of the mayonnaise, which adds a little tang without compromising the creamy texture. If preferred, you can use a packaged coleslaw without seasoning packet, as I did in the photo. Omit the carrot if it is in the mix, but add the peppers and onions for extra flavor.
Ingredients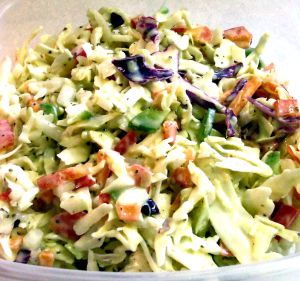 Salad
1 small head green cabbage, cleaned and cut in wedges
1 large carrot, peeled and cut into 1-inch pieces
1/4 large green bell pepper
1/4 large red bell pepper
1 small onion, quartered
Dressing
3 tablespoons granulated sugar
4 tablespoons apple cider vinegar
1 teaspoon celery seed
1/4 cup mayonnaise (see comments above)
1 teaspoon yellow prepared or Dijon mustard
Salt and pepper to taste
Shred the salad ingredients with box grater or processor blade. (If using a box grater, the peppers and onion will be easier to chop finely with a knife.) Combine in a large bowl.
In a small bowl, thoroughly blend dressing ingredients. Pour over the cabbage mixture. Stir well. Cover and refrigerate for several hours or overnight, stirring several times to blend.
Notes: The amounts of the dressing ingredients can easily be altered to taste. Keep in mind that the cabbage will give off liquid as the slaw sets, so you do not need very much dressing.