Pepper Cabbage Salad
Serves 6
Pepper cabbage is a cabbage slaw made with peppers and a sweet and sour dressing that is popular with the Pennsylvania Dutch. I usually serve it as a side dish with sandwiches, but it is equally good with many other meals. I remember my grandmother included it with the traditional 'sweets and sours' at special occasion meals. This old family recipe is quick, easy, healthy and delicious.
Ingredients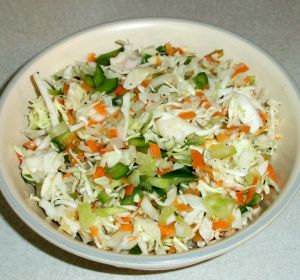 Salad
1 pound green cabbage, shredded
1/2 cup finely chopped green pepper
1/2 cup finely chopped celery
1/4 cup grated carrot
Dressing
1/2 cup cold water
5 tablespoons white vinegar
1/4 cup sugar
1 teaspoon salt
Pepper to taste
Combine the cabbage, green pepper, celery and carrot in bowl. Toss well.
Combine the dressing ingredients in a medium bowl and stir until the sugar dissolves. Pour over the cabbage mixture and toss together. Cover bowl tightly and marinate in refrigerator for several hours before serving. Toss and taste for seasoning.
Notes: Pepper cabbage will keep in the refrigerator for up to two weeks. As with any cabbage slaw, you can use packaged shredded cabbage.