Braised Turkey Legs with Tomatoes
Serves 4
I absolutely love turkey. When I came across a recipe for braised turkey legs, I knew I had to give it a try. I created this Italian-inspired version based on my recipes for oven-braised lamb shanks, one of which is in the similar and related recipes. Preparation is quick and easy, cooking time is mostly hands off and, because of the method, the skin can be removed before braising if desired. The recipe can be made in any amount, increasing the tomatoes and vegetables as needed. If cooking for two, make two legs using the amounts listed. Braised turkey legs is a delicious, healthy and comforting main dish that can be served for a family dinner, casual entertaining or a special occasion.
Ingredients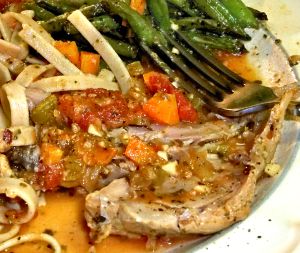 3 tablespoons olive oil
4 turkey legs, about 3/4 pounds each, with or without skin
Salt and pepper to taste
1 large carrot, peeled and chopped
1 large celery rib, chopped
1 medium onion, chopped
4 large garlic cloves, minced
1 tablespoon tomato paste
1 cup dry white wine
1/2 cup water, more if needed
1 can (14.5 ounces) whole tomatoes, crushed with fingers, with juices
2 teaspoons dried thyme leaves
1 tablespoon dried marjoram leaves
1 tablespoon dried rosemary leaves
1 bay leaf
Preheat the oven to 325° F. Heat a large skillet or sauté pan over medium-high heat. Add the olive oil. Season the turkey legs with salt and pepper. Add to the pan and sauté until nicely browned, about three minutes per side. Remove the legs and set aside.
Reduce heat to medium. Add the carrots, celery and onions to the pan. Season with a little more salt and pepper. Sauté until softened, about 5 minutes. Add the garlic and tomato paste. Stir well and sauté one more minute. Pour in the wine and water. Deglaze pan, scraping up all of the browned bits in the bottom. Add the tomatoes, thyme, marjoram, rosemary, bay leaf and a little salt and pepper. Stir well.
Return the turkey and any accumulated juices to the pan. (The liquid should come about halfway up the sides of the legs. If necessary, stir in a little more water.) Cover with a tight lid or foil. Place in the oven and braise for 40 minutes. At this point, turn the legs over, stirring to coat with the sauce. Cover and continue to braise until the legs are very tender, about 35 additional minutes. Serve with pasta, rice, polenta or other grain topped with the sauce.
Notes: If a thicker sauce is desired, remove the legs when done, keep warm, and cook the sauce on the stovetop until reduced to desired consistency. With this cooking method, you should not need to check the internal temperature of the turkey because, when it is tender, it is cooked through. However, if you want to be certain, it must be at least 165° F. To convert braised turkey legs into an economical and quick Osso Buco, a popular and delicious Italian entrée traditionally made with veal shanks, garnish the finished dish with a gremolata, as in the Osso Buco in the similar and related recipes.