Buttermilk Cornbread
Serves 8 to 10
This southern cornbread recipe is quick, easy and delicious. It can be served as is or used in cornbread stuffing. For an interesting variation, see the corny buttermilk cornbread in the similar and related recipes, where you will also find a healthier, but equally delicious 100% whole grain buttermilk cornbread that is based on this recipe.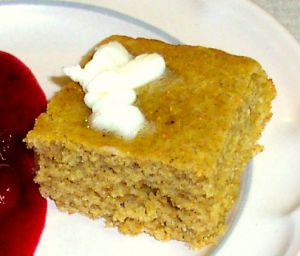 Ingredients
1 cup yellow cornmeal
1 cup all-purpose flour
3 tablespoons granulated sugar
1-1/2 teaspoons baking powder
1/2 teaspoon baking soda
1/2 teaspoon salt
2 large eggs
1-1/4 cups buttermilk
4 tablespoons (1/2 stick) unsalted butter, melted and cooled, more for greasing the pan
Preheat oven to 425° F. Generously butter a 9-inch square pan. Place the cornmeal, flour, sugar, baking powder, baking soda and salt in a medium bowl; whisk together. In a small bowl, whisk together the eggs, buttermilk and butter. Add the buttermilk mixture to the dry mixture; stir just until combined.
Heat the pan in the oven for 2 or 3 minutes, or until it is hot, making sure the butter does not burn. Add the batter, spreading evenly. Bake in the middle of the oven for about 15 minutes, or until the top is pale golden and the sides begin to pull away from the edges of the pan. (If in doubt, use a cake tester inserted in the middle, which should come out clean.) Remove from the oven and cool for 5 minutes, then turn it out onto a rack and cool a little longer. Serve warm or room temperature.
Notes: For stuffing, I use only 2 tablespoons of sugar and allow the cornbread to cool completely before using. This can be baked in an 8-inch square pan for a thicker bread. It will take about 5 minutes longer to bake.