100% Whole Grain Buttermilk Cornbread
Serves 8 to 10
I love my buttermilk cornbread, which is in the similar and related recipes, but I decided to experiment with a whole grain version based on the old recipe. First, I made certain to get whole grain cornmeal. I substituted whole wheat flour and pastry flour for the all-purpose. I used less egg, canola oil in place of half of the butter and a few other minor changes. The resulting cornbread is healthier and, in my opinion, has more flavor than the original. Serve as is or use in your favorite cornbread stuffing.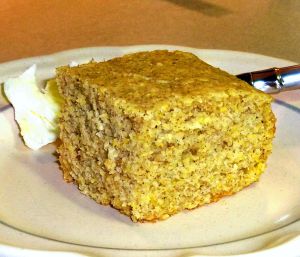 Ingredients
1-1/4 cups whole grain yellow cornmeal
1/2 cup whole wheat flour
1/4 cup whole wheat pastry flour (see notes below)
3 tablespoons granulated sugar (see notes below)
1 teaspoon baking powder
1/2 teaspoon baking soda
1/4 teaspoon salt (more to taste, up to 1/2 teaspoon)
1 large egg
1-1/4 cups non-fat of low fat buttermilk
2 tablespoons unsalted butter, melted and cooled
2 tablespoons canola oil
Cooking oil spray (for greasing pan)
Preheat oven to 350° F. Coat a 9-inch square pan with cooking spray. Place the cornmeal, flour, sugar, baking powder, baking soda and salt in a medium bowl; whisk together. In a small bowl, whisk together the egg, buttermilk, butter and oil. Add the buttermilk mixture to the dry mixture; stir just until combined.
Add the batter to the pan, spreading evenly. Bake in the middle of the oven for about 20 to 25 minutes, or until the top is pale golden and the sides begin to pull away from the edges of the pan. (If in doubt, use a cake tester inserted in the middle. It should come out clean.) Remove from the oven and cool for 5 minutes, then turn it out onto a rack and cool a little longer. Serve warm or room temperature.
Notes: If you cannot find whole wheat pastry flour, which adds a bit of tenderness, use 3/4 cup whole wheat flour. Alternately, you can use white whole wheat flour, which is just as nutritious as regular whole wheat, but has a lighter color and wheat flavor. A sugar substitute for baking with a 1:1 ratio can be substituted for all or some of the granulated sugar. If using the cornbread for stuffing, let it cool completely. For stuffing, I use only 2 tablespoons of sugar. For a thicker bread, use an 8-inch square pan. It will take a little more time to bake, about 5 minutes. Cornbread freezes very well for up to six months, wrapped in plastic wrap or foil when cooled and placed in a freezer bag. Actually, I have stored it in the freezer for a year with great results.