Sour Cream Pecan Muffins
Makes 1 dozen muffins
This is a quick, easy and delicious muffin recipe that came from my mother. Since the muffins are not very sweet, they can be served for breakfast, brunch, lunch or dinner. See the notes below for some suggestions, as well as tips to convert the recipe into a healthier, but equally delicious whole wheat muffin.
Ingredients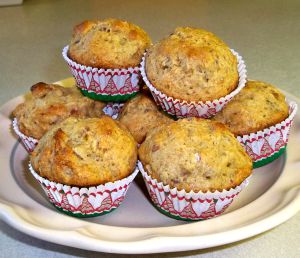 1-3/4 cups sifted all-purpose flour (see notes below)
1/2 cup granulated sugar
1 teaspoon baking powder
1/2 teaspoon baking soda
1/2 teaspoon salt
1/2 cup sour cream (can use reduced fat)
1/2 cup peach, apricot or similar flavored preserves
1 large egg
1 teaspoon vanilla extract
1 cup chopped pecans, toasted
Position rack in center of oven and preheat to 400° F. Line 12 medium muffin cups with muffin papers.
Sift first five ingredients into a large bowl. Whisk sour cream, preserves, egg and vanilla to blend in a medium bowl. Add sour cream mixture and pecans to dry ingredients and stir just until combined; do not over mix.
Divide batter among muffin cups. Bake until tester inserted into center of muffins comes out clean, about 20 minutes. Cool at least 15 minutes before serving warm or room temperature.
Notes: For a nice change, try making these in miniature muffin pans, like those pictured above, reducing the baking time to about 10 minutes. The batter will make about 30 miniatures when filled to the top. To toast the pecans, place on a sheet pan in a 350° F oven for about 8 minutes, being careful not to burn. As muffins go, this one is relatively healthy since there is no oil or butter and you can use reduced fat sour cream. However, I now make them substituting 1 cup whole wheat pastry flour for 1 cup of the all-purpose flour. The pastry flour adds whole wheat goodness, but still produces a tender product. I also use an all fruit apricot spread, such as 'Simply Fruit', in place of preserves that are usually high in other sugars, and the muffins come every bit as good.