Blueberry-Orange Muffins
Makes 12 muffins
When I was a child, my mother always made blueberry muffins as part of our Christmas breakfast. Although she did most baking from scratch, those muffins came from a boxed mix, and they were very good. When I started cooking, I followed in her footsteps and, no matter what else was served Christmas morning, we had those same blueberry muffins. However, later in life, I became more concerned about eating healthier and started looking for a wholesome muffin made from scratch. It took a while to find one as good or better than that boxed version, but this is it. The orange adds a wonderful, bright flavor. And the whole wheat pastry flour ensures tenderness while adding a healthy amount of whole grain. This is my new holiday muffin. Truthfully, when Mom was still alive, she asked me to make a batch several times throughout the year, so she definitely approved. No one will suspect these muffins are a healthy treat.
Ingredients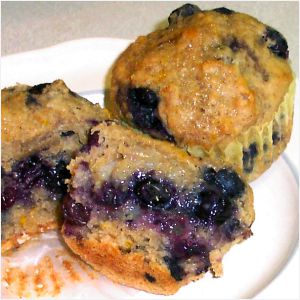 1 cup all-purpose flour (see notes below)
1-1/4 cups whole wheat pastry flour
1-1/2 teaspoons baking powder
1/2 teaspoon baking soda
A pinch to 1/4 teaspoon salt
1 teaspoon ground cinnamon
1 large egg
1/3 cup packed dark brown sugar
1/3 cup granulated sugar (or sugar substitute with a 1:1 ratio, such as Splenda)
1 cup plain nonfat yogurt
2 teaspoons grated orange zest
1/3 cup orange juice
2 tablespoons canola oil
1 teaspoon pure vanilla extract
10 ounces (about 1-1/2 cups) fresh or frozen blueberries (not thawed)
2 teaspoons Turbinado sugar (can use granulated)
Preheat oven to 400° F. Spray 12 muffin cups with cooking spray. (You may use paper liners, but they should be lightly sprayed, as well.) In a large bowl, whisk together both flours, baking powder, baking soda, salt and cinnamon. In a medium bowl, whisk the egg and brown sugar until smooth. Whisk in the yogurt, orange zest, orange juice, oil and vanilla. Make a well in the dry ingredients and add the wet. Stir until just combined. Gently fold in the blueberries. Spoon the batter into the prepared muffin cups. (The cups will be almost full.) Sprinkle the tops with the Turbinado sugar. Bake until the tops are golden and the centers spring back when pressed lightly, about 20 minutes. Cool in the pans on a cooling rack for 5 minutes. Loosen the edges and remove the muffins from the pan. Cool completely on the rack before serving.
Notes: If using frozen berries, take two tablespoons of the all-purpose flour before adding it to the dry ingredients and toss it with the berries before adding them to the batter. If, like me, you prefer muffins that are not quite so sweet, use a scant 1/3 cup of the granulated sugar or substitute. I always make these with the sugar substitute, so I know it works.