Whole Wheat Buttermilk Pancakes
(See 100% whole grain variation below.)
Makes about 14 pancakes
This is a healthier alternative to the usual pancake recipe, but just as quick and easy. The whole wheat flour adds a mild nutty flavor, but is not at all overpowering. Most people do not notice the difference. If you are new to using whole wheat, start with less, or use white whole wheat flour, which has a milder flavor but the same nutrients as its counterpart. My mother loved these pancakes and actually preferred them to regular. Using sugar substitute is obviously good for those who have to monitor sugar, but it also reduces the calories for the rest of us. I often cook a batch of these pancakes, wrap them individually in waxed paper, then place in bags in the freezer for a quick and healthy breakfast. Reheat them in the toaster or microwave.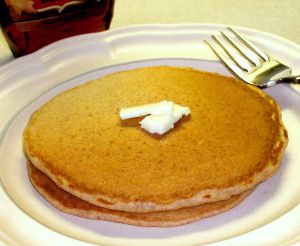 Ingredients
2 large eggs, beaten
1 cup whole wheat flour
1/2 cup all-purpose flour
1-1/2 teaspoons baking powder
1/2 teaspoon baking soda
1-1/2 cups buttermilk (see notes below)
1 tablespoon butter, preferably unsalted, melted
2 tablespoons canola oil
1 tablespoon sugar (or sugar substitute that equals sugar portions 1:1, such as Splenda)
1/4 teaspoon salt
Place all ingredients into large bowl. Beat with whisk or rotary beater until smooth. (If the mixture seems too thin, add a little flour. If it is too thick, add a little buttermilk.)
Heat a large nonstick skillet or griddle over medium-high heat. Test with a sprinkle of water from your hand to see if it is hot enough. It is hot enough when the water droplets jump. Pour batter from a large spoon or small measuring cup to form about a 4-inch circle. Turn pancakes to the other side when bubbles form on top. Continue to fry until the other side is brown and the top springs back to a light touch, adjusting the heat as needed. Serve immediately, or keep in a warm oven until all are ready.
Notes: If you do not have buttermilk on hand, add 1 tablespoon fresh lemon juice or white vinegar to 1-1/2 cups reduced fat or nonfat milk and let it set about 10 minutes before using. The batter can stay in the refrigerator for several days if not used all at once. You might need to add a little more milk before using. For fluffier pancakes, separate the egg whites from the yolks. Add the yolks as indicated in the recipe. Beat the whites to soft peaks and fold into the batter just before making the pancakes.
100% Whole Grain Variation: Since I first made this recipe, I gradually substituted more whole wheat flour for the all-purpose and now that is all I use. If you are used to the flavor of whole wheat, use the 2 cups. Alternately, as noted in the comments, you can use white whole wheat flour. I also use all canola oil in place of the butter and I do not miss the butter flavor. If desired, you can use 1 whole egg and 2 egg whites in place of the 2 eggs.