TC's Big Bird Cake
Serves 20 to 24
I made this cake back in the 70's for my nephew, Charlie (TC-Tough Charlie), when he turned five years old. What a spectacular event. We served his favorite foods and the cake, which was frosted to resemble Big Bird's face. We played 'pin the tail on Big Bird', a game I designed. We found a stuffed Big Bird in a fireman's suit, a profession which fascinated Charlie at the time. We all had a terrific time and the cake was delicious! Decorating the cake with frosting to resemble feathers was a challenge for a beginner and it took me an entire day, but it was so much fun. The results were rewarding, and Charlie loved it. To make the same Big Bird, you would need the cake pan (my brother, who collects cake pans, has mine now), unless you are adept at shaping cakes from round or rectangular shapes. Actually, that would be fairly easy to do with this cake. As noted below, the cake can be made in other size pans so it makes a delicious presentation in any shape or form for any special event with a large gathering.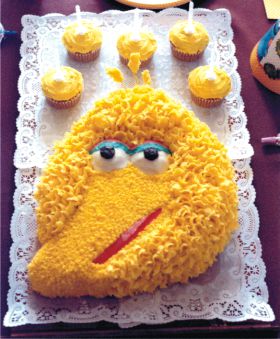 Ingredients
Cake
4 cups sifted all-purpose flour
2 teaspoons baking powder
1 teaspoon salt
1/2 teaspoon mace (see notes)
2 cups butter, preferably unsalted, room temperature
1 tablespoon vanilla
2-1/4 cups granulated sugar
8 large eggs, room temperature
1/2 cup milk, room temperature
Frosting
1/2 cup solid shortening, preferably non-hydrogenated
1/2 cup butter, preferably unsalted, room temperature
1-1/2 teaspoon vanilla
5 cups confectioners' sugar
2 tablespoons milk
Food coloring, as desired
To make the cake, preheat oven to 300° F. Grease and flour a Big Bird cake pan, or four 9-inch round layer cake pans, or two 13x9x2-inch cake pans. Sift together the flour, baking powder, salt and mace. Cream butter and vanilla. Gradually add sugar, beating until fluffy. Add eggs, one at a time, beating until light and fluffy. Add flour mixture, alternating with milk, mixing only until smooth. Pour into prepared pans. Bake for 50-60 minutes. (If baking in several pans, increase temperature to 350° F and decrease time to approximately 30 minutes for 9-inch layer cake pans or 35 minutes for 13x9x2-inch cake pans.) Cool for 20 minutes in pans. Remove cakes from pans and cool completely on racks.
Meanwhile, make the frosting. Cream butter and shortening with mixer. Add vanilla. Gradually add sugar, 1 cup at a time, beating on medium speed. Scrape side. Frosting will appear stiff. Add milk and beat at high speed until light and fluffy. Frost cooled cake. (Can double recipe for extra cake layers, adding milk gradually until light and fluffy. Extra cakes can be frozen for later use, frosted or not. Wrap first in two layers of plastic wrap, then one layer of aluminum foil.)
Notes: Mace adds a hint of flavor to the cake, but it can be omitted. If you have a little too much batter for whichever pans you use, make some cupcakes using paper liners in a muffin tin. They can be frozen for later, or use them to hold the appropriate number of candles and arrange them around the main cake (see photo).