Miniature Chocolate Cupcakes with Cream Cheese-Chocolate Chip Filling
Makes about 4 dozen cupcakes
You might think that is a mighty long title for a tiny cupcake. But these single bite sweets are so good I wanted to get your attention. I got this recipe from my sister-in-law, who got it from her sister, who probably got it from someone else. I usually make these to add to the holiday cookie tray for something different in the assortment, but they are easy enough for a dessert or treat any time of year. They are also great for a potluck event. If you do not have enough miniature muffin tins for four dozen cupcakes, they can be baked in two batches. You can make them ahead because they keep well for about two weeks in an airtight container, and they can be frozen for several months. However, hide them well, because I have been known to raid the freezer for a miniature cupcake fix.
Ingredients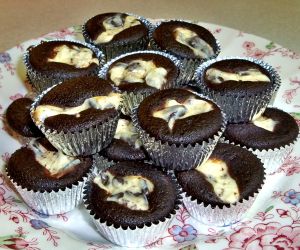 Cupcakes
1-1/2 cups all-purpose flour
1 cup granulated sugar
1/3 cup unsweetened cocoa
1 teaspoon baking soda
1/2 teaspoon salt
1 cup cold water
1/2 cup canola or other vegetable oil
1 tablespoon apple cider vinegar
1 tablespoon vanilla
Cream Cheese-Chocolate Chip Filling
8 ounces cream cheese, room temperature
1 large egg, room temperature
1/3 cup granulated sugar
Dash of salt
6 ounces semisweet chocolate chips
Preheat oven to 350° F. Combine all the ingredients for the cupcakes in large bowl. Mix with electric mixer until well blended. In a medium bowl, combine the cream cheese, egg, sugar and salt for the filling. Beat until creamy. Stir in the chocolate chips.
Line miniature muffin tins with miniature paper cups. Fill muffin cups 1/2 full with cupcake batter. Put 1 teaspoon cream cheese filling on top, making certain that each spoonful has a couple chocolate chips. Bake for 13-15 minutes. Remove from oven; cool slightly on racks. Remove cupcakes from tins. Cool completely before serving.