Chocolate Cake with Chocolate Cream Cheese Frosting
Makes one 13x9x2-inch cake
Serves 12 to 15
I must admit that I love a good piece of chocolate cake on occasion. I spent a long time searching for a healthier recipe that is lower in sugar and fat, preferably using healthier fat. I also like my cake moist with an intense chocolate flavor. And I wanted to incorporate whole grain flour to add nutrition. I finally found what I was searching for and, not only is it delicious, but very easy to make. This is based on a recipe by Ellie Krieger in 'The Food You Crave' cookbook. I made a few changes, such as using darker chocolate, a little less sugar and switching to a chocolate cream cheese frosting. Much to my amazement, this is one of the best chocolate cakes I have ever tasted, and my family agrees. Because it has so much chocolate flavor, a moderately-sized portion satisfies completely. See the notes below for helpful tips about several of the ingredients.
Ingredients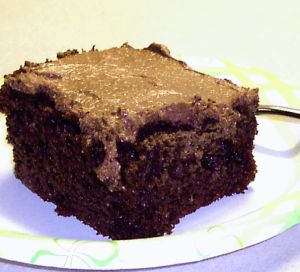 Cake
Cooking spray
3/4 cup whole wheat pastry flour
1/2 cup all-purpose flour
1/2 cup unsweetened cocoa powder
Pinch of salt
1 teaspoon baking soda
1 teaspoon baking powder
2 tablespoons butter, preferably unsalted, melted
2 tablespoons canola or other vegetable oil
1 ounce dark chocolate, at least 60% cacao
1 ounce unsweetened chocolate
2 large eggs, room temperature
2 large egg whites, room temperature
1-1/2 cups nonfat or low-fat plain yogurt, room temperature
2 teaspoons pure vanilla extract
Scant 3/4 cup granulated sugar
1 tablespoon espresso powder, dissolved in 1 tablespoon hot water
Frosting
8 ounces reduced-fat cream cheese (Neufchatel), room temperature
1/4 cup confectioners' (powdered) sugar, sifted if lumpy
1/4 cup unsweetened cocoa, sifted if lumpy
1 teaspoon espresso powder, dissolved in 1 teaspoon hot water
1 teaspoon vanilla extract
Nonfat or low-fat milk, if needed
For the cake, preheat oven to 350° F. Lightly spray a 13x9x2-inch cake pan with cooking spray. Place the flours, cocoa, salt, baking soda and baking powder in a sifter or fine mesh strainer and sift into a medium bowl. Whisk to combine well.
Place the dark and unsweetened chocolate in the microwave or over a double boiler, stirring occasionally, just until melted. Set aside. In a large mixing bowl, whisk together the melted butter and oil. Add the eggs and egg whites and whisk to combine. Gently stir in the yogurt, vanilla, sugar and espresso. Fold in the melted chocolate. Gradually add the dry ingredients, gently stirring just until combined. Pour the batter into the prepared cake pan. Place in the oven and bake until a toothpick inserted in the center comes out clean, about 20 minutes. (Oven temperatures can vary significantly. Always check the cake sooner, but do not be surprised if it takes longer than specified.) Place on a rack and cool completely.
Meanwhile make the frosting. Combine all of the ingredients in a medium bowl and beat with an electric mixture until creamy. If it is too thick, add a little milk and beat until spreadable. When the cake is completely cool, spread the frosting evenly the top. Serve within several hours, or cover and store in the refrigerator for up to 3 days.
Notes: Make certain all of the ingredients for the cake are at room temperature. Do not be tempted to overmix the batter or it might become tough. If you cannot find whole wheat pastry flour, you can order it online. Alternately, you may use regular whole wheat flour, but the cake will not be quite as tender. Since I always have 60% cacao chocolate on hand, as well as unsweetened chocolate, I mix the two for a very intense chocolate flavor. You can use 2 ounces of a 70% or 80% cacao chocolate, or all 60%. It really depends on taste. I have made this cake using half sugar and half sugar substitute with a 1:1 ratio. It works just fine. If you cannot find espresso powder, you can use instant coffee powder. If you are serving a crowd, the cake will disappear instantly. If not, cut leftovers into serving size pieces, place on a sheet pan and freeze until the frosting is frozen. Wrap individually in plastic wrap, place in a freezer bag and freeze for up to three months.