Chocolate-Chocolate Chip Cookies
Makes about 3 dozen small cookies
If you love chocolate, this double chocolate chip cookie recipe is for you. It tastes rich and decadent but, in reality, is much healthier than traditional chocolate chip cookies, such as my version in the similar and related recipes. This recipe uses whole wheat for half of the usual all-purpose flour, and canola oil for half of the butter. No one will know the difference because they taste so good. My friends love them, and they are very easy to make. Remember that, when you bake, all ingredients must be at room temperature unless specified otherwise.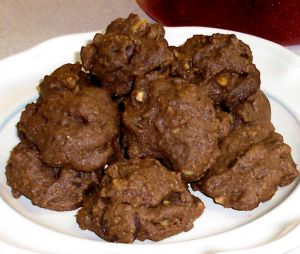 Ingredients
1/2 cup all-purpose flour
1/2 cup whole wheat pastry flour (see notes below)
1/4 cup unsweetened cocoa powder
Pinch of salt
1/4 cup butter, preferably unsalted, room temperature
1/2 cup dark brown sugar
1/4 cup granulated sugar (see notes below)
1/4 cup canola oil
1 large egg, room temperature
1 teaspoon vanilla
2/3 cup dark chocolate chips (4 ounces), at least 60% cacao
2/3 cup chopped toasted walnuts
Preheat the oven to 350° F. In a medium bowl, whisk together the flours, cocoa powder and salt. In a large bowl, cream together the butter and both sugars with an electric mixer. Add the oil and egg and beat until creamy. Mix in the vanilla. Add the dry ingredients to the wet ingredients and mix with a spoon until well combined. Stir in the dark chocolate chips and walnuts. Drop the batter in about two teaspoon scoops, and 1-1/2 inches apart, onto a cookie sheet lined with parchment paper. Bake for 10 to 12 minutes. Transfer cookies to a rack to cool. Cooled cookies can be stored in an airtight container for about one week. They also freeze well for up to six months.
Notes: This recipe makes small, bite-sized cookies, which is the way I like them. If you prefer, the cookies can be made larger. Whole wheat pastry flour can be found in specialty and health food stores, as well as online sources. If you cannot find it, use regular whole wheat. The cookies might not be as tender, but still very tasty. The cocoa powder called for is regular unsweetened, not Dutch processed. I love the intensity of dark chocolate chips, but you can use semisweet or milk chocolate if that is your preference. If, like me, you do not like your cookies too sweet, cut back on the amount of granulated sugar. I have substituted a sugar substitute with a 1:1 ratio for the granulated sugar and it works very well.