Miniature Cheesecake Cookies
Makes 3 dozen cookies
I absolutely love these miniature cheesecakes. I made them one Christmas because, since we always have so many assorted cookies to serve, it seemed unnecessary to make my favorite traditional cheesecake for Christmas Eve dessert. At first, I made cheesecake bars and they were very good (see the notes for instructions). However, I prefer to make these cookies into individual bites that look like tiny cheesecakes. So, I played with the recipe and this is what evolved. Now I can have my cheesecake and still serve an assortment of cookies. These are very easy to make. They must be stored in the refrigerator, but the flavor is best if allowed to come to room temperature before serving. However, that never stopped anyone from popping one into their mouth while still cold, including me. Extras freeze very well for up to six months. During the summer, serve them with fresh berries for a light treat that cheesecake fans will love.
Ingredients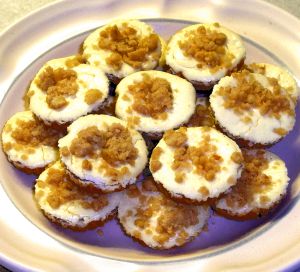 Crumbs
6 tablespoons butter, preferably unsalted, room temperature
1/3 cup light or dark brown sugar
1 cup all-purpose flour
1/2 cup finely chopped walnuts
Filling
1/4 cup granulated sugar
8 ounces cream cheese, room temperature
1 large egg, room temperature, lightly beaten
2 tablespoons milk, room temperature
2 tablespoons lemon juice
1/2 teaspoon vanilla
For the crumbs, preheat oven to 350° F. Cream butter and brown sugar. Add flour and nuts. Mix with hands until crumbly. Reserve 1/2 cup for topping. Press remainder, about a heaping 1/2 teaspoon per cookie, into miniature muffin tins lined with muffin papers. Bake 12-15 minutes or until lightly browned. Cool completely.
For the filling, blend granulated sugar and cream cheese. Add egg, milk, lemon juice and vanilla. Mix well. Put about 1 heaping teaspoon filling into each cooled muffin cup. Sprinkle with reserved crumbs. Bake at 350° F for 25 minutes or until knife inserted in center comes out clean. Cool. Store in an airtight container in the refrigerator for up to three weeks.
Notes: If you prefer to make bars, as I sometimes do, press the crumbs into an 8x8 or 9x9-inch pan. Bake at the same temperature and for about the same amount of time indicated above. Cut into small squares or rectangles when cooled. I have been experimenting with my cookie recipes, trying to substitute healthier or lighter ingredients that do not alter texture or sacrifice flavor. For this recipe, I have used whole wheat pastry flour instead of all-purpose, sugar substitute with a 1:1 ratio for half of the granulated sugar, reduced-fat cream cheese and nonfat milk, all with great success. No one can tell the difference.