Sour Cream Chocolate Cake with Chocolate Frosting
Makes one 13x9x2-inch cake
This is one my favorite chocolate cake recipes. It has a lot of chocolate flavor and the sour cream keeps it very moist. The frosting is also delicious and so creamy. The late Marge Early of 'Josh Early Candies' in Allentown, Pennsylvania, gave my mother the recipe many years ago. Although I usually bake this cake in a 13x9x2-inch cake pan, you can make a layer cake using two 8-inch round pans. Reduce the baking time by approximately 10 minutes and increase the frosting by another half.
Ingredients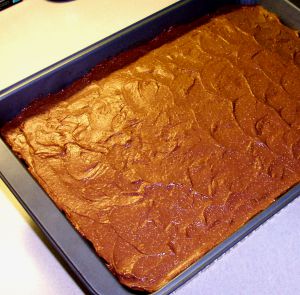 Cake
3 ounces unsweetened baking chocolate
1/2 cup butter, preferably unsalted
1 cup boiling water
2 cups all-purpose flour
2 cups granulated sugar
2 teaspoons baking soda
1/2 teaspoon salt
1/2 pint sour cream, room temperature
2 large eggs, room temperature
2 teaspoons vanilla
Frosting
2 ounces unsweetened chocolate
3/4 stick (6 tablespoons) butter, preferably unsalted
3/4 pound (approximately 3 cups) confectioners' sugar
1/2 teaspoon vanilla
Dash of salt
Milk as needed
For the cake, preheat oven to 325° F. Grease and flour a 13x9x2-inch cake pan. Combine the chocolate, butter and boiling water in a small saucepan. Cook over medium heat, stirring constantly, until chocolate is melted and smooth. In a large mixing bowl, mix together the flour, sugar, baking soda and sugar. Pour hot chocolate mixture over dry ingredients. Add the sour cream, eggs and vanilla. Beat until well blended. Pour into prepared pan. Bake for 35 to 40 minutes or until cake tester inserted in center comes out clean. Remove from oven and place on cake rack to cool completely before frosting.
Meanwhile, make the frosting. In a small saucepan over medium heat, melt the chocolate and butter. Cool slightly. In a large mixing bowl, combine the sugar and salt. Add the melted chocolate mixture and the vanilla. Beat well. Gradually add enough milk to make creamy, beating well after each addition. Frost cooled cake.
Notes: The cake can be served immediately or covered and kept at room temperature for one day. After that, refrigerate and bring back to room temperature before serving.