Bird's Nest Cookies (Jam-Filled Thumbprints)
Makes about 3-1/2 dozen cookies
This recipe is for thumbprint cookies that are rolled in nuts with an indention in the center that is filled with jelly or jam. The resulting cookie looks like a tiny bird's nest, hence the name. The recipe was my mother's, and she was making them as long as I can remember. Not only are they delicious, they make a pretty and festive presentation. I use strawberry and mint-apple jellies for the red and green colors during the Christmas season, as seen in the photo. However, since these are so easy to make, serve them as a sweet treat any time of the year. See the similar and related recipes links for my favorite chocolate-filled thumbprint cookies.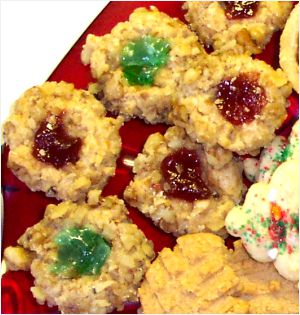 Ingredients
1 cup butter, preferably unsalted, room temperature
1/2 cup dark brown sugar
2 large egg yolks, room temperature, unbeaten
1/2 teaspoon vanilla
1/4 teaspoon salt
2 cups sifted all-purpose flour
2 large egg whites, room temperature, unbeaten
1-3/4 cups finely chopped walnuts or pecans
Jam or jelly
Preheat oven to 350° F. Cream butter until fluffy. Gradually add brown sugar and mix until well blended. Add egg yolks; mix well. Blend in vanilla, salt and flour. Shape into 1-inch balls. Dip each ball in egg whites, then roll in chopped nuts. Place on ungreased cookie sheet about 1-inch apart. Bake for 5 minutes. Quickly make a depression in center of each cookie with thumb. Bake 6 minutes longer. Cool completely on racks. Fill depressions with jam of choice. The cookies should set out until the jam dries before packing into an airtight container. Separate the layers of cookies with wax or parchment paper. After that, they can be stored at room temperature for up to three weeks.
Notes: These cookies freeze very well. I have stored leftovers for one year and they were still delicious.