Chocolate-Filled Thumbprint Cookies
Makes about 3 dozen cookies
Please do not confuse this cookie recipe with the one that has a chocolate 'kiss' in the center. Those cookies are good, but these are so much better. The dough is not as sweet and the filling is a delicious chocolate made from scratch. The recipe came from my mother and is one of the cookies that she made every Christmas season for her assorted cookie trays, including the jam-filled thumbprints in the similar and related recipes. But do not wait until the holidays to make them. They are a delightful sweet treat for a dessert, party or potluck event any time of the year.
Ingredients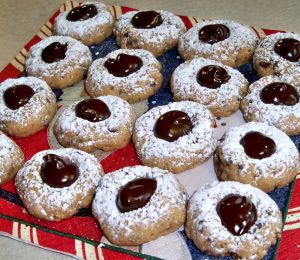 Cookie Dough
1/2 cup butter, preferably unsalted, room temperature
1/2 teaspoon salt
1 teaspoon vanilla
1/2 cup brown sugar (I use dark)
1-1/2 cups sifted all-purpose flour
2 tablespoons milk, room temperature
1/4 cup semisweet or bittersweet chocolate chips or pieces, finely chopped
Confectioners' (powdered) sugar
Chocolate Filling
3/4 cup semisweet or bittersweet chocolate chips or pieces
1 tablespoon butter, preferably unsalted
2 tablespoons light corn syrup
1 tablespoon water
1 teaspoon vanilla
For the cookies, preheat oven to 375° F. Cream butter with salt and vanilla until fluffy. Gradually add brown sugar. Blend in flour, milk and chocolate. Shape dough into 1-inch balls. Place on an ungreased or parchment-lined cookie sheet about 1-inch apart. Make depression with thumb in center of each cookie. Bake 8-10 minutes. Cool slightly, then roll in confectioners' sugar while still warm. Cool completely before filling.
Meanwhile, make the chocolate filling. Melt the chocolate and butter in a saucepan over hot water, making certain the water does not touch the bottom of the bowl (or melt in microwave). Stir to blend. Cool slightly. Blend in corn syrup, water and vanilla. Fill depression in cooled cookies with chocolate filling before it cools and sets. Allow the filling to set completely before packing cookies into an airtight container. Cookies will store at room temperature for up to 3 weeks and can be frozen for up to 6 months.
Notes: As with all cookies, you must be careful not to let the butter soften too much or beat it too long when creaming or the cookies will spread and crisp up when baking. If using a standup mixer, be extra careful not to beat too long. I made that mistake the first time I switched from hand mixing to my mixer. Any extra filling can be refrigerated and used later, heated in the microwave until soft, as a yummy chocolate sauce over ice cream or cake.