Baked Apple Chunks (with Optional Granola Topping)
Serves 4 to 6
I love cooked apples and decided to bake them for a change. They are so good. The flavor of the apples and the spices is intensified when baked. I usually use a combination of macintosh, Granny Smith and golden delicious apples for both sweetness and tartness, as well as different textures. Occasionally, when they are in season, I add a pear or two. This recipe makes a quick, very easy, healthy and delicious dessert. If desired, top with your favorite granola for an instant apple crisp with a crunchy top. See my favorite homemade granola in the similar and related recipes.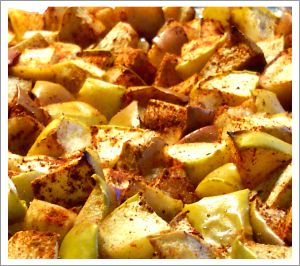 Ingredients
6 medium apples, a combination of sweet and tart
1 teaspoon ground cinnamon
1/4 teaspoon ground nutmeg
1/4 teaspoon ground cloves
1/4 teaspoon ground ginger
Pinch of salt
1/2 teaspoon grated lemon rind
2 teaspoons fresh lemon juice
Honey to taste (optional, see notes below)
3/4 to 1 cup crunchy granola, store-bought or homemade (optional, see recipe link)
Preheat oven to 400° F. Lightly coat a large 4-sided baking sheet or shallow baking pan with cooking spray. Scrub the apples and remove the cores. Cut into small chunks and place on the baking sheet in one layer. Add the cinnamon, nutmeg, cloves, ginger, salt and lemon rind. Drizzle with the lemon juice and honey. Toss well to combine. Bake until the apples are tender but still holding their shape, about 20 minutes, stirring about halfway through. The apples can be served warm, room temperature, or cold. If desired, top individual servings with about 2 tablespoons granola just before presentation.
Notes: Whether or not to use honey or the amount needed depends on the apples. If they are very tart, add about 1 tablespoon. If desired, you can substitute brown sugar. Personally, I never add either because I am accustomed to desserts that are less sweet, and baking brings out more of the natural sweetness of the apples. In addition to granola, you can top the apples with yogurt, milk, or ice cream.