Crunchy Homemade Granola with Oats, Nuts, Seeds and Vanilla-Maple Syrup
Makes about 7 cups
I really love a good crunchy cereal and decided several years ago to make my own granola so that I can control all of the ingredients. The original version was very good, but I was not happy with the amount of oil that was in it. I tried using less, but then something was missing. I researched many recipes, tried a few that added other ingredients, such as fruit juice, and used less oil, but nothing tasted right to me. Finally, I saw a recipe that used no oil or butter. I decided to give it a try and it works. So, I kept the other ingredients I liked from my original recipe, omitted the oil, and sweetened the granola with maple syrup mixed with a little vanilla. Perfect! This is quick, easy, super healthy, and absolutely delicious as a breakfast cereal, nutritious snack or dessert topping, as in some of the recipes in the similar and related recipes. You can use any kind of seeds or nuts that you prefer and in any amount as long as the final product measures about seven cups.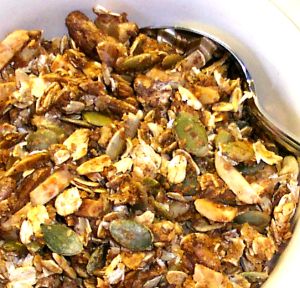 Ingredients
3 cups old-fashioned rolled oats
1 cup green, unsalted pumpkin seeds (raw pepitas)
1 cup unsalted slivered almonds
1/2 cup chopped unsalted walnuts or pecans
1 cup toasted or untoasted wheat germ
1/4 cup unsalted sunflower seeds
2 tablespoons ground flax seeds (optional)
Salt to taste, a pinch or up to 1/4 teaspoon
1/2 teaspoon ground cinnamon
1/4 teaspoon ground nutmeg
1/2 cup pure maple syrup
1/2 teaspoon vanilla
Preheat oven to 325° F. Combine the oats, pumpkin seeds, nuts, wheat germ and seeds in a large bowl. Add the salt, cinnamon and nutmeg; stir to combine. Add the syrup and vanilla and toss until the mixture is well coated. Spread the granola in one layer on two large baking sheets, preferably lined with parchment paper for easy cleanup. Bake until golden brown, stirring halfway through and switching racks, about 40 minutes. Cool completely in pans on racks. Store in an airtight container at room temperature for up to one month.
Notes: I do not add dried fruits to this granola since I often use it as a topping for berries or fruit. I prefer to store it as is, then add dried or fresh fruit if I am using it as a breakfast cereal or dessert with milk or plain yogurt. However, dried fruit can be added to the whole batch after the granola has cooled.