Deviled Eggs with Pimentos and Parsley
Makes 10 deviled eggs
I must admit, I have a weakness for deviled eggs. If I spot them on a buffet, you can be sure a couple will land on my plate, and I will be back for more. Oddly enough, I only make them occasionally and this is one of the recipes I use most often. Serve deviled eggs for appetizers, picnics, finger food parties, holiday gatherings, potluck events, or any time you want a quick and easy dish to round out a meal. They also make a healthy snack. By the way, if you ever invite me to dinner and deviled eggs are on the menu, you might want to make extra. For another of my favorite deviled eggs, see the similar and related recipes.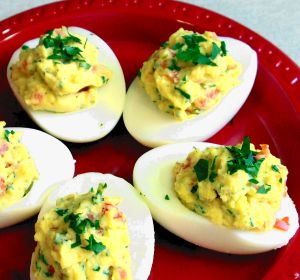 Ingredients
5 hard-cooked eggs, peeled and halved lengthwise
Salt and pepper to taste
1/4 teaspoon onion powder
1/2 teaspoon Dijon mustard
2 tablespoons mayonnaise (can use light or canola)
1-1/2 tablespoons drained chopped pimentos or finely chopped red bell peppers
2 teaspoons finely chopped fresh parsley
10 small parsley leaves (garnish)
Remove the yolks from the eggs, being careful not to tear the whites, and place in a small bowl. Mash with the back of a fork. Add the salt, pepper, onion powder, mustard and mayonnaise and stir until well-combined. Stir in the pimentos and chopped parsley. Taste for seasoning. Fill egg whites with yolk mixture using a spoon or piping bag. Garnish each with a parsley leaf. Serve immediately or cover and refrigerate until needed.
Notes: When I first posted this recipe, I used pimentos. Since then, I rarely have them in my pantry, so I use finely chopped sweet red bell peppers. Use whichever you have on hand, as they are equally good. This recipe can be made in any amount. The eggs can be prepared a day ahead, but wait until serving to garnish with the parsley. Leftovers can be refrigerated for up to four days. If desired, you can substitute nonfat plain yogurt for all or most of the mayonnaise for an equally delicious version.