Egg Salad (for Salad or Sandwiches)
Makes about 2 cups
Everyone has a favorite recipe for egg salad and this is mine. The recipe came from my mother. I added the red bell peppers for color and flavor. You can adjust the ingredients to taste and make in any amount needed. This is delicious served as a salad or in sandwiches.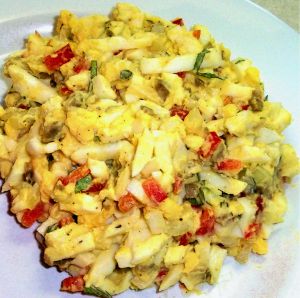 Ingredients
4 hard-cooked eggs, chopped
1 tablespoon chopped green olives
1 tablespoon finely chopped onions
2 tablespoons finely chopped red bell peppers
Salt and pepper to taste
2 teaspoons prepared yellow mustard
About 1/4 cup mayonnaise (can used reduced fat or canola)
Mix together the first 6 ingredients. Gradually add the mayonnaise until salad is moist, but not too wet. Taste for flavor and adjust as needed. Serve as is or in sandwiches.
Notes: Jarred chopped pimentos can be used in place of the red peppers. Leftovers can be refrigerated in a covered container for up to three days.