Eggs Poached in Tomatoes (Italian Eggs in Purgatory)
Serves 3 to 6 (see notes below)
This recipe for eggs poached in tomatoes is a favorite standby in my house when I want a healthy, quick and easy meatless meal. It is a recipe I received from some Italian friends that I later discovered is called Eggs in Purgatory (Uova in Purgatorio). Serve with good crusty bread for breakfast, brunch, lunch or dinner. This recipe can be made in any amount. Leftovers are very good at room temperature or lightly reheated.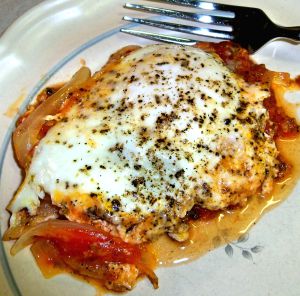 Ingredients
1 tablespoon olive oil
1 large onion, sliced
1 can (14.5-ounces) whole tomatoes, crushed with hands, with juices
1 tablespoon dried parsley
1 tablespoon dried oregano
Salt and pepper to taste
2 tablespoons freshly grated Parmesan cheese, divided
6 eggs, large or extra-large
Notes: I usually make these eggs for dinner and plan on two eggs per person. For lunch or brunch, I would probably serve one. In this presentation, I prefer for the egg yolks to be fairly well cooked. If you like your eggs a little runnier, adjust the poaching time. When fresh local tomatoes are available, use about one pound of those, diced, in place of the canned. The same goes for fresh parsley or oregano.
Variations: Eggs cooked in this manner are equally good over greens or other vegetables. See the recipe in the similar and related recipes for an example.
Heat oil in a medium skillet over medium heat. Add onions and sauté until tender. Add the tomatoes, parsley, oregano, salt and pepper to taste. Cook until the tomatoes have broken down and most of the liquid has evaporated, about 10 minutes. Sprinkle with one tablespoon of the Parmesan cheese. Break eggs, one at a time, into a small bowl and add to top of sauce. Cover; simmer until set, about 10 minutes. Sprinkle with the remaining Parmesan. Serve hot or room temperature.