Eggs Poached on Cooked Greens
Serves 4
This simple Italian egg dish makes a quick, easy and healthy vegetarian breakfast, lunch or dinner. You can use any greens you prefer. I love it with broccoli rabe, but it is equally good with regular broccoli or broccolini. I also make it with leafy greens and often use frozen greens, such as spinach, as shown in the picture. Adjust the cooking time according to the greens you are using. Serve with crusty bread and, if dinnertime, a tossed salad or roasted potatoes for a complete meal. Plan ahead and make extra eggs. The leftovers are very good, warmed slightly or at room temperature, for a quick breakfast or lunch. See the similar and related recipes for the Eggs Poached in Tomatoes, my version of Eggs in Purgatory, on which this recipe is based.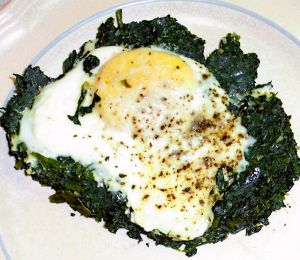 Ingredients
2 tablespoons olive oil
4 large cloves garlic, minced
About 1 pound greens, fresh or frozen (see comments above)
Salt and pepper to taste
Crushed red pepper to taste (optional)
4 eggs, any size
Freshly grated Parmesan cheese
If using fresh greens, clean and dry them. Long stems need to be chopped into about 2-inch pieces. Thick stems should be halved or quartered vertically. Frozen greens do not need to be thawed. Heat the oil and garlic in a 10-inch skillet, preferably nonstick, over medium heat. When the garlic starts to sizzle, add the greens, salt and pepper. Cover and cook until tender, about 10 minutes, depending on the greens, adding a little water if needed. Sprinkle the optional crushed red pepper on top. (If preferred, crushed red pepper can be passed when serving, for those who like a little heat so the eggs are not too spicy for those who do not.) Break the eggs on top of the greens, one at a time. Season with salt and pepper. Cover and cook until desired doneness, about 10 minutes. Sprinkle with the Parmesan cheese. Serve hot or room temperature.
Notes: I do not specify what size eggs to use in this recipe because you can use any size you have on hand. If some people prefer the yolks more done than others, add the eggs at different times, about three minutes apart. This recipe can be made in any amount desired. Bigger eaters may prefer two eggs, especially for dinner. There will be enough greens and space in this size pan to add two more eggs. Beyond that, you will need more greens and a larger skillet.