Pasta with Cooked Greens
Serves 4 to 6
This pasta recipe is an easy, healthy and delicious vegetarian main dish using frozen greens that is super quick. I have made it with several different types of greens, depending on what I have in the freezer at the time, and they all work equally well. Adjust the cooking time for those that require more or less cooking to become tender. This is a perfect sauce for whole wheat or multigrain pasta.
Ingredients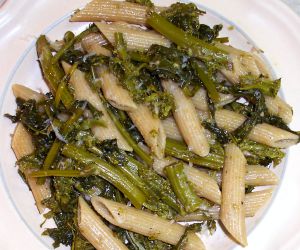 3 tablespoons olive oil
6 large cloves of garlic, minced (more or less to taste)
2 packages (16-ounces each) frozen chopped turnip or similar greens
3/4 cup water (more if needed)
1/4 cup dry white wine or vermouth (optional)
Salt and pepper to taste
1 pound medium pasta, such as shells, ziti or penne
Freshly grated Parmesan cheese
Heat olive oil in large sauté pan over medium heat. Add garlic and sauté about one minute, being careful not to brown. Add greens, water and wine. Raise heat to high until liquid is boiling. Add salt and pepper. Reduce heat to medium-low. Cover and cook until greens are tender, about 30 minutes, breaking the greens apart as they thaw and adding more liquid if needed.
Meanwhile, cook pasta according to package directions for al dente.
When greens and pasta are done, drain the pasta, reserving a little of the pasta liquid. Add the pasta to the greens with the liquid if needed for moisture. Stir thoroughly over very low heat. Let set for 3 minutes to allow flavors to blend. Serve, passing grated cheese separately.
Notes: Occasionally, I add three or four anchovy fillets to the garlic, just before adding the greens. It adds a little salty flavor, but does not taste like fish. Additionally, I pass hot pepper flakes when serving. If everyone likes a little heat, add some to the greens as they cook. Made too much? Check out the recipes for leftover pasta in the similar and related recipes.