Greens, White Beans and Pasta Soup
Serves 2 to 3
I love soup and do not mind that it sometimes takes extra preparation and a long time to cook. However, most of the time I want something that requires minimal effort. That is one of the reasons why I created this soup. I was hungry for my turkey and greens soup, which is in the similar and related recipes, but did not have a turkey carcass, turkey legs, turkey broth or, quite honestly, the time to make it. I did have homemade chicken broth in the freezer that was leftover from the last time I stewed a whole chicken. So, I decided to make a quicker and slightly altered version of the recipe. I relied on the greens and chicken broth, along with seasonings from the original version, to flavor the dish and added white beans for texture. What resulted has become one of my favorite 'go-to' soups. It is hearty and satisfying, but quick, easy, healthy and light enough even for the summer months. If you or your guests are vegetarians, you can substitute a good vegetable broth for the chicken broth.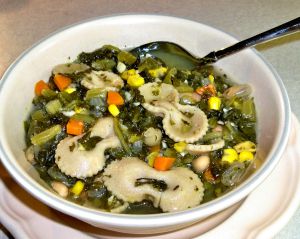 Ingredients
2 tablespoons olive oil
1 small onion, chopped
1 medium carrot, peeled and chopped
1 medium celery rib, chopped
5 large garlic cloves, minced
1/2 cup dry sherry
1/2 cup dry white wine or vermouth (optional, see notes below)
2 cups chicken broth, preferably low-sodium
3 cups water
1 pound frozen turnip or similar greens
1 can (about 15 ounces) great northern or cannellini beans, preferably low-sodium or no-salt-added, rinsed and drained (see notes below)
1 dry bay leaf
1 tablespoon dry marjoram leaves
1 teaspoon dry thyme leaves
Salt and pepper to taste
2 to 4-ounces bowtie pasta or hearty noodles, preferably whole wheat (see notes below)
1/2 cup frozen corn kernels
1 clove garlic, crushed (optional, see notes below)
Freshly grated Parmesan cheese for serving
Heat the olive oil in a medium soup or stock pot over medium heat. Add the onions, carrots and celery; cook until softened, about 5 minutes. Add the garlic and cook an additional minute. Add the sherry, wine, broth and water, stirring to release any browned bits in the bottom of the pan. Add the greens, beans, bay leaf, marjoram, thyme, salt and pepper. Bring to a boil over high heat, reduce to low heat, cover and simmer until everything is tender, about 30 minutes depending on the greens used. Add the pasta, corn and optional crushed garlic. Cook for another 10 minutes or until pasta is tender. Serve immediately or keep warm over very low heat for up to 30 minutes. Pass the Parmesan cheese separately when serving.
Notes: I usually use a combination of dry sherry and extra dry vermouth in this soup, but you can just add sherry or substitute additional chicken broth for either. Canned beans vary in weight from 14 to 16 ounces. A little more or less will not matter. How much pasta you add depends on how much liquid the greens exude when cooking and how hearty you like your soup. I usually add a little more pasta. If you want more liquid, add a little more broth or water. For extra garlic flavor, I pass a garlic clove through a garlic crusher and add it to the soup when I add the pasta. It is not necessary, but really good. The recipe can be doubled. However, start with a little less than double the herbs and water and add more if needed. When available, I garnish with fresh marjoram before serving. Leftovers reheat very well, although the pasta might get slightly overcooked.