Scrambled Eggs with Peppers, Tomatoes and Basil
Serves 3 to 4
I love eggs for a light dinner, and decided to do something different with scrambled eggs. This Italian-inspired recipe is quick, easy, healthy and delicious. These scrambled eggs are equally appropriate for breakfast, lunch or dinner and, since they are good at room temperature, on a brunch buffet.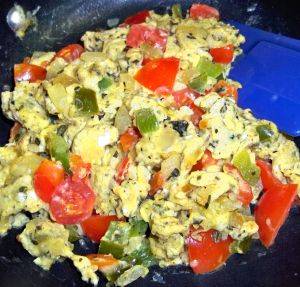 The amount and type of vegetables can be adjusted as desired and the recipe made in any amount needed.
Ingredients
1 tablespoon olive oil
1/2 cup chopped onion
1/2 cup chopped green bell pepper
1/2 cup chopped red bell pepper
2 large cloves garlic, minced
6 large or extra-large eggs
2 tablespoons water
1 medium tomato, diced, juices discarded (about 3/4 cups)
Salt and pepper to taste
1 tablespoon chopped fresh basil (or 1 teaspoon dried)
Freshly grated Parmesan cheese
Heat olive oil in a nonstick 10-inch skillet over medium-high heat. Add the onions and peppers. Sauté until tender, about 5 minutes. Add the garlic and sauté another minute. Reduce heat to medium.
Meanwhile, crack the eggs into a medium bowl. Add the water and whisk until well combined. Add the salt, pepper and basil. Pour into pan of vegetables and cook, stirring often, until eggs are done, about 3 minutes. Add the tomatoes and cheese and stir in. Serve immediately.
Notes: Canned diced tomatoes, drained well, can be substituted for the fresh.