Brown Basmati Rice Pilaf
Serves 2 to 3
I have always liked regular long-grain brown rice, but the brown basmati rice is even tastier, with a wonderful, nutty flavor. This rice pilaf recipe is very easy, healthy and versatile. Add whatever herbs or spices you prefer, especially to complement the entree. Fresh herbs can be added after the rice is cooked.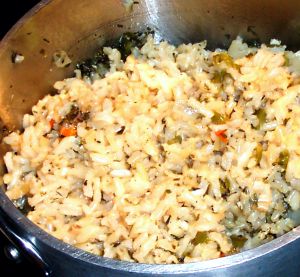 Make in any amount desired, using a 2:1 ratio water to rice. (When making a smaller amount, the rice usually cooks in less time so adjust as needed.) If desired, the same recipe can be used with quick-cooking brown rice, adjusting the cooking time according to the package directions.
Ingredients
1 teaspoon olive oil
1/4 cup finely chopped onions
1/4 cup finely chopped green and/or red bell pepper
1 teaspoon minced fresh garlic
1/2 cup brown basmati rice
1 teaspoon dried oregano leaves
1 teaspoon dried parsley leaves
1 cup water
Heat a small saucepan over medium heat. Add oil, then the onions and peppers. Sauté until slightly tender, about 4 minutes. Add the garlic and sauté another minute. Add rice and cook until lightly browned, about 2 minutes. Add oregano, parsley, water, salt and pepper. Turn heat to high and bring to a boil. Reduce to low heat, cover, and cook until done, about 45 minutes, or according to package directions. Remove from heat and let set, covered, about 7 minutes. Fluff with a fork and serve.