Wild Rice Pilaf
Serves 4 to 6
I love wild rice. It has a wonderful, nutty flavor and is a very healthy whole grain. The herbs used in this pilaf recipe can be substituted with others to complement the main dish. Serve this quick, easy and delicious side dish with a casual weeknight meal or an elegant dinner.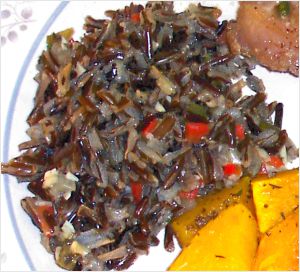 Ingredients
2 teaspoons olive oil
1/4 cup finely chopped onions
1/4 cup finely chopped green and/or red peppers
1 large clove garlic, minced
2 cups water (see notes below)
2/3 cup wild rice
Salt and pepper to taste
1 teaspoon rubbed sage
1/2 teaspoon dried thyme leaves
Heat a medium saucepan over medium-high heat. Add the olive oil, then the onions and peppers. Sauté until softened, about 5 minutes. Add the garlic and sauté one more minute. Add the water, rice and seasonings. Stir to combine. Bring to a boil then cover, reduce heat to medium-low, and cook until the rice is tender, 45 minutes to 1 hour. Let set about 5 minutes, then fluff with a fork before serving.
Notes: Always consult the instructions on the package in case the ratio of water to rice is different than in this recipe. Since wild rice does not absorb liquid like regular rice, you can never be certain how much liquid you will need. Very often, there is extra liquid in the pot when the rice is done. If you have a little extra liquid, you can remove the lid and cook until the liquid evaporates. If there is too much liquid, just drain it off.