Apies Cookies (Butter Cookies)
Makes about 4 dozen medium cookies
This is one of my family's favorite decorated cookies. The recipe is quite old, at least 100 years, probably older, and came from my Pennsylvania Dutch grandmother. The number of cookies the recipe yields depends on the sizes and shapes of the cookie cutters used. We always use an assortment. They can be decorated with colored sugar, sprinkles or frosting, and they are equally delicious unadorned. Make them for Christmas or any occasion throughout the year. See the Apies Cake, which is in the similar recipes, for a related breakfast cake.
Ingredients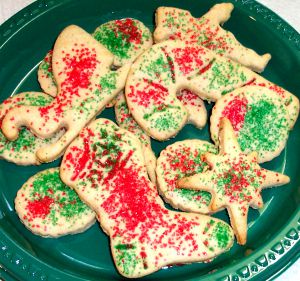 1-1/2 cups butter, preferably unsalted, room temperature
2-1/3 cups granulated sugar
5 large eggs, room temperature
1-1/2 teaspoons vanilla
1 tablespoon milk, room temperature
6-1/2 cups all-purpose flour (more if needed)
5 teaspoons baking powder
Thoroughly cream butter and sugar. Add unbeaten eggs, vanilla and milk; mix well. Sift together flour and baking powder. Gradually add to creamed mixture, mixing well after each addition. You will probably need to add up to 1 additional cup of flour to make a dough stiff enough to roll out. Do not add more than needed or the dough will be tough. Chill overnight.
To bake, preheat oven to 350° F. Roll out a portion of chilled dough very thin. Cut into shapes. Place on lightly greased or parchment-lined cookie sheets. Sprinkle with colored sugar or other sprinkles. (If using frosting, wait until the cookies are baked and completely cooled.) Bake 6-8 minutes or until edges brown slightly. Cool completely. Store in an airtight container.
Notes: Cookies will keep at room temperature for up to three weeks. They can also be frozen for up to six months.