Grandmom Weber's Heavy Butter Cookies
Makes about 10 dozen cookies
My Grandmom Weber made this Pennsylvania Dutch butter cookie recipe in bulk every Christmas, as well as her sand tart cookies, which is in the similar and related recipes. She put the cookies in empty pretzel or potato chip cans and gave one to each of her eight children for their families. Additionally, she had an endless supply at her house for visitors. Years ago, my mother rekindled the tradition of making these cookies every holiday season and then it was passed down to me. This is half of Grandmom's original recipe. It can be easily doubled, or even halved again. Just start with a little less flour and add more as needed. The amount of cookies the recipe yields depends on the size of the cutters used. This is not a fancy cookie recipe nor is it as sweet as most. As the name implies, the texture is perfect for dunking, although the cookies are absolutely delicious as is.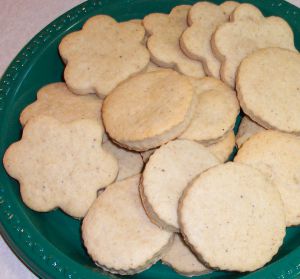 Ingredients
3/4 pound (3 sticks) butter, preferably unsalted, room temperature
2-1/4 cups granulated sugar
1 large egg, room temperature
1 teaspoon nutmeg
1/2 teaspoon baking soda
1 cup milk, room temperature
8 cups, more or less, all-purpose flour
Cream the butter and sugar. Add the egg and beat well. Beat in the nutmeg. Dissolve the baking soda in the milk. Add to creamed mixture, alternating with flour. (Start with less flour and gradually add more until dough is the consistency for rolling, keeping in mind it will stiffen further when it chills.) Chill dough in several batches.
Preheat oven to 375° F. When the dough is well chilled, remove from refrigerator, one batch at a time. It might need to soften slightly before rolling. Roll to thickness of about 1/4-inch. Cut out with medium cookie cutters. Place on greased or parchment-lined cookie sheets. Bake for approximately 10 minutes or until lightly browned around the edges. Remove from cookie sheets and cool completely. Store in an airtight container. These cookies are best if stored for several days before serving.
Notes: These are not tender, flaky cookies. They should have a more substantial, heavy texture. However, do not add too much flour or they might be dry and tough.