Grandmom Weber's Sand Tart Cookies
Makes about 4 dozen cookies
This is one of the cookies my Pennsylvania Dutch grandmother made in huge supply for the Christmas holidays. Whenever we visited, there was a plate of these on her kitchen table. In addition, she would put them in large pretzel or chip cans (that is how chips and pretzels were packaged in those days) and give one to each of her eight children for their families, along with another can filled with her heavy butter cookies, which is in the similar and related recipes. These cookies are easy and, with the cinnamon and nuts on top, absolutely delicious. I prefer using almonds on top, but use any nut you like.
Ingredients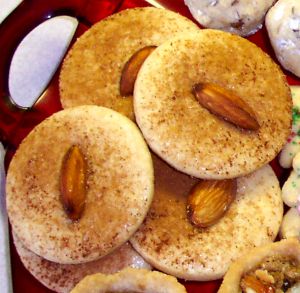 1/2 cup (1 stick) butter, preferably unsalted, room temperature
1 cup granulated sugar
1 large egg, room temperature, beaten
2 cups all-purpose flour
2 teaspoons baking powder
1/4 teaspoon salt
2 large egg whites, room temperature, lightly beaten, for top
Mixture cinnamon and sugar, for top
Almonds, pecans, or walnuts, for top
Cream butter and sugar until fluffy. Add the whole egg and beat well. Combine flour, baking powder and salt. Gradually add to creamed mixture, beating well after each addition. Cover with plastic wrap and chill overnight.
Preheat oven to 350° F. Roll dough out to about 1/8-inch thickness. Cut out cookies with a medium-sized round cookie cutter. Place on greased or parchment-lined cookie sheets. Brush tops of cookies with egg white. Sprinkle with cinnamon and sugar. Top with a nut. Bake for approximately 8 minutes. Remove from oven and cool completely. Store in an airtight container for up to 3 weeks. These cookies also freeze very well for up to 6 months. I have successfully stored them in the freezer for one year.